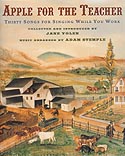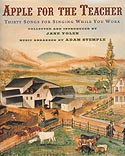 APPLE FOR THE TEACHER
Music arranged by Adam Stemple
Abrams 2005
ISBN# 0-8109-4825-7 hardcover
This is another long story. After having done a bunch of music books with my son Adam in the 80s and 90s, I made a list of other possible interesting collections, and Work Songs was high up on that list. I sent the ideas around to many of my publishers, and while there was a modicum of interest, no one wanted to do any more. They felt there were too many music books out there.
Then I met Susan Van Metre at Dutton and she loved the idea. She gave us a contract. But wait! You have probably already noticed that the book was not published by Dutton. Susan left to help build up the Abrams children's book line, and persuaded Dutton to let us buy the book back (they didn't care, it was Susan's book, after all!) and resell it to Abrams.
Susan's idea was to illustrate the book with folk art and of course Abrams, being the great American Art Book house, was the perfect place to do such a book. It went from being called WORK SONGS to WORKING AMERICA to GIT ALONG LITTLE DOGIES to APPLE FOR THE TEACHER. Adam and I wrote several new work songs, but the rest are mostly folk songs. Each song is dedicated to a specific type of work: railroad engineer, programmer, teacher, doctor, farmer, etc.
Originally the book had a bunch of punning gags about the type of work running at the bottom of the song, to be illustrated in cartoon-style. But the folk art illustrations and their annotations took up so much room, it was an idea that got dropped. (I still miss it as a leavening agent.) However, the choices made for the book–the folk art and careful annotations are brilliant.
What reviewers have said:
"Follow American history by listening to what different workers have to say about their jobs in these songs. Endnotes and folk art illustrations give historic context."–Instructor
"Thirty occupations, ranging from astronaut to weaver, are celebrated in song. The tunes are simple and usually short. Several were written and composed by the authors, such as "My Father Is a Programmer," "Bodies on the Line," and "Stand and Wait." Traditional examples are both familiar, like "Stewball" and "Casey Jones," and relatively unknown. . . . The illustrations provide a vivid picture-book bonus. . . Folk weather vanes, wooden sculptures, paintings, and textiles (table covers, quilts, rugs) in bright, sharp reproduction lend charm and naive directness to the accompanying songs. These touching illustrations perfectly animate the world of the laborers reflected in the songs. History, art, and music work in sweet harmony here."—School Library Journal
"Yolen has brought together a collection of 30 work songs, presented with music arranged by her son, Adam Stemple, which represent a wide variety of occupations, ranging from astronaut to laundry worker to weaver. She introduces each job, explaining unusual vocabulary and references in the songs. Many of the pieces are familiar. . .and several were written by Yolen and Stemple for this volume. The artwork, chosen and captioned by Eileen Michaelis Smiles, is elegant. Ranging from sculpture to paintings to needlework, each selection of Americana has been carefully matched to the occupation, beautifully reproduced on high-quality paper, and meticulously identified. Classroom teachers and parents as well as young readers will appreciate this unique compilation of music, art, and American history." — Booklist
"Throughout history, people have sung while they worked to help pass time, boost spirits and hawk their wares. Apple for the Teacher contains musical scores for 30 labor songs as well as the histories of the songs among workers. Some of the professions include astronaut, chimney sweep, street vendors and telephone operator. Folk-art illustrations round out this collection. This book could easily tie together your curricular studies for art, music, and social studies."—Teaching K-8
"A grand collection of songs to do with every types of work from pulling a barge through the Erie Canal to computer science. Agreeable arrangements that sound more difficult than they really are make it perfect for classroom, child care, or home use. The painting, folk art, and descriptions of songs make this a enjoyable browse for adults, while kids will love the variety of songs within."—The Field Guide to Parenting
"This unique book combines work songs, American folk art and concise social commentary about various occupations, from the teamsters and tarriers of an earlier era to modern-day astronauts and programmers. Jane Yolen is an acclaimed writer of children's books, and in Apple for the Teacher, she, along with Adam Stemple and Eileen Michaelis Smiles, has produced compelling portraits of Americans at work. . . . Especially useful for schoolteachers seeking to approach career studies through art and music, this book would also be an excellent way for families to add a musical dimension to nightly story times…"–Music Teachers
Available in hardcover.
---