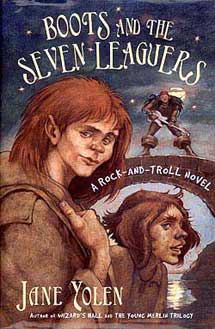 Boots and the Seven Leaguers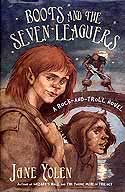 BOOTS AND THE SEVEN LEAGUERS
Harcourt Brace 2000
ISBN# 0-15-202557-X Harcourt hardcover
ISBN# 0-15-202563-4 Magic Carpet paperback
I needed a new short story for my collection, Twelve Impossible Things Before Breakfast, and I found the start of Boots in my files. No memory of when it had gotten there. But it looked hopeful: the story of a young troll who wants to go to a rock-and-troll concert. However as I tackled it, it kept growing and growing, wanting to leap out of its borders. No end in sight, I put it aside and wrote something else. But about a year later, going through my "Ideas" file, I came upon it again. Lightning struck. "Duh–it's a novel, dummy!" (I am never easy on myself.) And so over the next year it grew and grew into a book which is not just about rock and roll, but about brother love, honor, and the definition of heroism. Plus a lot of lyrics to rock-and-troll songs. My son Adam promised to set them to music if the book did really really well. Hmmm—that never happened.
If you look carefully, you will find the names of two real people in the novel, people who bid in charity auctions for the right to be in one of my next books. Charles Rudkin, a British sf fan, won at the British Fantasy Convention. Jesse Feldman's mom bid in for her at the Highlights Chautauquah conference. But something else about names: Gog and Magog are names out of the Bible, gigantic brothers. And see if you can guess the pan's name before it is revealed in the end,
The book was a Jr. Library Guild selection and one of the 25 books chosen for the New Hampshire Great Stone Face Children's Choice Award lists: 2001-2002 and 2002-2003. It was also on the 2001 New York Public Library Books for the Teen Age List and was nominated for the 2001 Mythopoeic Award.
What reviewers have said:
"Gog and Pook are as crass and cool as any teenage boys. They and other denizens of the Kingdom will amuse and engage readers as they are entangled in the author's spell. A well-crafted and exciting tale."–School Library Journal
"Yolen has crafted a clever, tongue-in-cheek tale of unlikely heroes that combines creatures from dozens of fantasy worlds. Young teens who enjoy fantasy, humor, music, and the worlds of Middle Earth and Hogwarts will find this offbeat tale amusing."–VOYA
"This is for young teens but Yolen's work always has an innate charm that speaks to older readers as well." — SF Chronicle
"This first-rate adventure has a little bit of everything–expert knowledge of legend and faerie lore, modern teen temptations, fictitious CD titles and song lyrics, excellent writing, and enough "snarly" sights and sounds to cause plenty of shivers. The imaginative details–including greenkids (who bear an effective resemblance to modern drug dealers), wild mabs, doom rooms, and alleys of the undead–will appeal to Harry Potter as well as Hobbit fans. The mythological realm is capably linked with our present-day world, resulting in an old fashioned triumph of good over evil with a contemporary feel. There's also a confidence building affirmation that even not-so-bright trolls can problem-solve if they have motivation and courage." — Children's Literature
"Yolen manages to work in a lot of unobtrusive-but-authentic fairy lore in this lighthearted, humorous fantasy narrated by the troll-next-door. Give this to readers who enjoy Diana Wynne Jones and Patricia Wrede." — Booklist
"Jane Yolen gives folklore a contemporary tweak in Boots and the Seven Leaguers: A Rock-and-Troll Novel. … Yolen has a good ear for teen-speak and her translation into the world of faerie is clever and convincing. The straightforward quest storyline is simple and effective, and the characters are appealing and interesting. Snippets from the songs on Boots' CDs head each chapter and are a nice touch. Yolen even defines "rock-and-troll" (via Gog) as what we mundane folk call rock 'n' reel, and she even has Gog rattle off some real life bands' names — including Boiled in Lead, one of whose members is Yolen's son, Adam Stemple. For a light and fresh look at Faerie through one of its much maligned creatures, get in line for Boots and the Seven Leaguers." — Rambles
"While Gog, a teenage troll, and his best friend, Pook, work as roadies in order to gain admittance to a rock concert, Gog's little brother is kidnapped. In order to rescue him, the two friends travel deep into the forest, which is inhabited by many treacherous creatures. Laced with plenty of humor, the imaginative novel describes the fantastical happenings in an authentic adolescent voice." — Horn Book
"This is a romping, pun-filled story set in fairyland with many resemblances to present-day humanity, including adolescents (however supernatural) obsessed by really cool (not to mention noisy) rock bands." — Mythprint
"Jane Yolen has once again written a story that is engaging and timeless. Family loyalty is foremost, even if you are among the troll family. Die-hard rock fans can identify with Gog, as can fans of fantasy. Easily readable and with a different take on trolls, I'd recommend this book to any library." –Kliatt
Available in hardcover and paperback.
---
Order from:
Search for Out of Print Books: