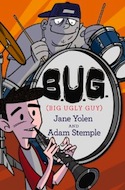 B.U.G.
With Adam Stemple
Dutton Juvenile 2013
ISBN-10: 0525422382
ISBN-13: 978-0525422389
My son Adam Stemple and I had written two "Rock and Roll Fairytales" for Tor books—Pay the Piper and Troll Bridge. But when our old editor left, the new one could not push through the third book, B.U.G. which was already mostly written. It's about a Jewish kid, Sammy, who is being badly bullied in school so he makes a golem, a monster out of myth, magic, and clay. The monster helps him stay safe. . .for a while. But the problem with making a clay bully to help you stay safe from the human bullies, is that now you have an almost-indestructible monster on your hands. And just because you think he's your friend, and the dynamite drummer in your klezmer-jazz fusion garage band, he is still a monster. And any day he is likely to go beserk.
An editor over at Dutton, the marvelous Steve Meltzer, a mensch of the first order, loved the book and took it on.
Adam and I struggled in some places, came to accommodations over plot twists. I kept him from killing off too many characters (always my job!), he pushed me to make the plot more intricate. We laughed at each other's funny lines, shivered at the scary ones, had a great time writing.
I love my work!
Accolades:
The Sydney Taylor Book Award Committee has chosen B.U.G (Big Ugly Guy) as a Notable book in the Older Readers Category for 2014
Around the Web:
What reviewers have said:
"…this likable tale has a laudable message about friendship and fighting your own battles."—Horn Book
"It's a story about a boy in trouble. It's funny and scary and thrilling and — like most versions of the golem story — deeply sad. The Jewish legend works surprisingly well as a story about bullying."—Kirkus
"Yolen and Stemple weave a magical coming-of-age story that addresses the themes of bullying, friendship, good versus evil, first crushes, and making good decisions."—Booklist
"Everything you ever wanted to know about golems (and more) is revealed in this book, ideal for middle school boys who are being bullied. Sammy Greensburg has many reasons to be singled out by members of the Boyz group of thugs at his school. For one, he has got a quick, sarcastic tongue, and second, unlike most of his classmates, he is Jewish, and among other things, he has no friends. He has no friends, that is, until Skink arrives at the school and bonds with Sammy in the brotherhood of being bullied. Sammy and skink along with Julie—lunchroom friend and secret crush of Sammy— soon realize that they share a love of music. Their unusual style is a fusion of jazz, pop, and klezmer. In Sammy's efforts to thwart the bullies at school, he forms a golem out of clay (a.k.a. Big Ugly Guy) and it comes to life—solving one problem and creating many more. Readers, especially boys, will eagerly delve into the antics and deliberations of Sammy and learn the many ways to deal with bullies"—Children's Literature
"But too much power can be as much of a problem as being powerless — can the Golem be controlled or will he have to be destroyed? An original take on bullying, this is a terrific novel that could be enjoyed by boys or girls. And who can resist a klezmer/drum-playing golem???" — The Fourth Musketeer
"B.U.G. is extraordinarily successful blending of contemporary realistic and fantasy fiction. In addition to the seamlessly interwoven genres the story embodies the themes at the heart of every individual–particularly young people–trying to decide who we are when overwhelmed by feelings and circumstances." — MSTAMIREADS