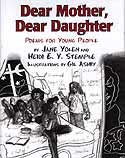 Dear Mother, Dear Daughter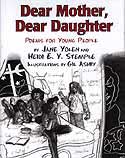 DEAR MOTHER, DEAR DAUGHTER,
Poems for Young People
Written with Heidi E. Y. Stemple
Illustrations by Gill Ashby
Wordsong/Boyds Mills Press 2001
ISBN # 1-56397-886-5 Hardcover
My daughter, Heidi, and I have always sent each other notes — sometimes quick little memos left on a pillow or inside a journal, or letters and postcards sent through the mail. Now that there is email, we send each other long instant messages several times a day. Writing a poem about a problem that you're having allows you to break down the emotion into small enough parts so you can deal with it. None of these poems is about an actual event. But each is about a problem we have wrestled with as daughters, and as mothers: homework, allowance, ear piercing, curfew, death of a grandparent, getting chosen for games at school.
Each double page in the book consists of paired poems, one "Dear Mother" poem answered by a "Dear Daughter" poem. Some are humorous, some serious, some rhymed and some free verse.
Awards:
A Spring 2001 ABA Kids' Pick of the Lists
One of the Bank Street College of Education's Best Children's Books of the Year
Utah's Beehive Award nominee for poetry 2004-2005.
See what Heidi has to say about this book.
What reviewers have said:
"Mother-daughter team Jane Yolen and Heidi E.Y. Stemple use an inventive (and humorous) format in Dear Mother, Dear Daughter: Poems for Young People, illustrated by Gil Ashby. Daughter addresses mother in a poem on the left, and mother addresses daughter on the right, debating issues such as homework, weight, sports and romantic crushes." — Publishers Weekly
"Readers will enjoy … the mother and daughter voices–chatty, warm, irritated, angry–and the family vignettes." — Booklist
"Dear Mother, Dear Daughter offers a creative, problem-solving communications tool in the form of 17 beguiling coming-of-age poems that will make you smile, chuckle, and even shed a tear. … If improved communication with your children is your goal, and you're looking for a fresh approach, don't pass this one up. It will help you bridge the generation gap and build mutual respect." — Bookpage
"Seventeen pairs of poems define the push and pull between preteen and parent as the younger anguishes and matures and the older advises and nourishes. Each two-page set offers a poem that Stemple has written to her mother in a daughter's voice on such sources of adolescent angst as homework, self-consciousness, bedtime, self-assurance, or insufficient allowance. Yolen's motherly response on the facing page is firm, but understanding; critical, but complimentary; advisory, but empathetic. Pencil sketches show girls of various cultures, accompanied on some pages by the sort of amateurish doodles (and the inherent smeary, cluttered look) that might be found in a school notebook. Girls will feel a kinship with the younger poet's words and feelings and will welcome the mother's insights and loving discipline." — School Library Journal
"In addition to providing wonderful poetry for young adolescent females, Yolen and Stemple have given us a book that generations of mothers and daughters, no matter what stage of life they are at, will enjoy sharing. Highly Recommended." — from Editor's Pick (starred review) of Book Report
"… an excellent resource for reading aloud…Highly recommended." — Catholic Library World
"Acclaimed storyteller Jane Yolen and her grown daughter Heidi Stemple trade words in Dear Mother, Dear Daughter, a collection of paired poems. Stemple provides the young daughter's voice in the lead poem on each double-page spread and brings up subjects such as homework, crushes, phone calls, to which Yolen's mother poem replies. The poems explore the gamut of emotions, sadness, jubilation, anxiety, and the tone ranges, very believably, from tenderness to a plaintive whine. Gil Ashby's black-and-white illustrations add to the mood without overwhelming the short poems. Who knows, this book may inspire a child/parent poem dialogue in your family." — Childrens Literature
"…these poems provide a springboard for class discussions about common growing-up dilemmas." — The Mailbox Bookbag
"…a book of poetry that addresses various adolescent issues…the wisdom of good advice given from mother to daughter, and the struggle of a young girl to gain her independence as she grows into an adult." — Reading Teacher
"Once again Jane Yolen brings readers a delightful and thoughtful book. … Their talent [Jane and Heidi's] combined with Gil Ashby's charcoal illustrations equal the perfect gift for any mother, no matter what age, to share with her daughter" — Northwest Family Magazine
"This restrained and stylish volume of poetry pairs the work of award-winning children's author Jane Yolen and fellow writer Heidi E. Y. Stemple, who is also Yolen's real-life daughter. In seventeen pairs of sensitive verse, the mother/daughter team tackles a variety of adolescent concerns. . . the overall effect of them is pleasing and provides a unique format for communication between the generations. Each set of poetry is illustrated with sensitive, black-and-white pencil drawings by Gil Ashby, which are infused with the rich body language and facial expression familiar to all mothers and their daughters"– http://www.childrenslit.com
"As she matures, a young girl faces issues and events that are confusing, worrisome and challenging. Who better than her mother to offer advice and comfort? In seventeen pairs of sensitive verse, poets Jane Yolen and Heidi E. Y. Stemple — real-life mother and daughter — exchange their thoughts on a variety of preteen issues great and small, such as homework, messy bedrooms, lengthy phone calls, the death of a grandparent, and school girl crushes. In these compelling poems created as notes to each other, mother and daughter communicate their feelings about issues every family faces, bringing generations together in mutual respect.This book would make a lovely gift for a 10 or 11 year old girl who is "on the brink" of adolescence and who may find her conflicts with her mother increasing as her own "teenage" behaviors increase."–Parenting Magazine, Canada
"The poems embrace the standard mom-teen repertoire: messy rooms, homework, allowance. But Yolen and Stemple respect one another,and respect their differences. The communication between the generations at a difficult juncture shines through."–Associated Press
"Dear Mother, Dear Daughter: Poems for Young People features notes written back and forth between a mother and preteen daughter about issues that may be difficult to speak about. The rhyming poems in this book address topics such as body image ("Fat" and "Not Fat"), the daughter's messy room, staying up late, and tying up the phone. Written by real-life mother and daughter, Jane Yolen and Heidi E. Y. Stemple, this book shows a way to maintain the mother-daughter connection as children mature"–Our Children (The National PTA Magazine).
"These thoughtful missives, written as notes from a mother to daughter and the other way around, were penned by a real life pair. Aimed at preteen girls wrestling with growing up, the poems focus on issues most families face and attempt to bring about mutual respect for readers. Centering on the emptiness felt after a grandmother dies, the fear of the nightly news, feeling fat, and kids who look different, Yolen's and Stemple's book shoots from the hip and hits the target audience perfectly."–Copley News Service
"A mother-daughter author pair shares insights about adolescence in 17 pairs of clever, well-crafted poems. Parents and youngsters alike may recognize themselves in the different perspectives included in this book."–Childhood Education
Available in hardcover.
---
Order from:
Search for Out of Print Books: