Ekaterinoslav: A Family's Passage to America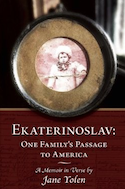 EKATERINOSLAV: ONE FAMILY'S PASSAGE TO AMERICA ~ A MEMOIR IN VERSE
Holy Cow! Press, 2012
ISBN-10: 0983325464
ISBN-13: 978-0983325468
I had tried for years to write a memoir of my father's family and their travels to America from a small shtetel (Jewish village) in the Ukraine in the early 1900s. I'd done a quasi first chapter, written a children's book that fictionalized one of the funniest of our family stories—called And Twelve Chinese Acrobats. That storybook was published some time ago, and I also had several poems about the family published over the years, including "Round Frame," and"Will" which won a Rhysling Award and has been reprinted a number of times, plus"Fur""Tea with Durek" and maybe one or two others.
But the memoir itself didn't jell for three reasons: all of the members of that original family were dead and their stories with them; what tales and information we first cousins had was seriously compromised by the Yolen propensity to decorate, undermine, and change stories every time we retell them; and there was little in the way of documentation in the old country as the shetetl had been destroyed, probably in World War II. Also my father had insisted until I was almost middle-aged that he had been born in New Haven (or was it Waterbury) until I found the original Ellis Island papers with his name on it. He'd been seven when he came over with his mother and father and three of his seven siblings. (The other four had come to America several years earlier.) Not to put too fine point on it, my father had lied to me all those years.
I took a hard look at my early published poems then, and realized that here was the way I could tell the story, encapsulating what I knew, what my cousins knew, and what could be found in the few documents as a memoir in verse. My adult poetry publisher, the small but venerable Holy Cow! Press was generous with praise for the poems. I gave them family photos to go along with the poetry. And that's how the book came to be written.
Did it take a year (if you count from the idea of the poetry book to the final poem) or about thirty years if you start with the death of my father and the initial idea of a memoir? Sometimes it's hard to define how long it takes for a seed to germinate, spread its roots, and grow.
What reviewers have said:
"Jane Yolen, master storyteller of myth and fantasy offers us a different kind of tale this time—a compelling, unsentimental family narrative told eloquently in verse. She recreates 'a lifetime, a country, a shtetl' and one family's circuitous and rocky journey toward the American Dream. In her vivid, poetic resurrection of family, Jane Yolen confirms what I always suspected—that storytelling is an integral part of her ancestral DNA."—Mira Bartok, author of The Memory Palace (New York Times bestselling memoir, National Book Critics Circle Award Winner)
"What is the hunger, so fundamental, to know the generations long gone who gave birth to us—to know intimately their stories, their pogram heartache, their immigrant pluck? Jane Yolen remembers, imagines, invents her shtetl bubbies and greenhorn zaydies, her bootleg uncles, vividly resurrecting them with insight, vision, compassion, love. We sit at the table wide-eyed, enchanted by her gift inherited from them—the well-told story."—Merle Feld, author of A Spiritual Life: Exploring the Heart and Jewish Tradition and Finding Words
"Jane Yolen's Ekaterinoslav is a rich salmagundi of speculative autobiography and imagined reminiscence, marinated in compelling verse. The reader is pulled along inexorably with an unforgettable cast of kinfolk through fortune and folly from an 1870s Ukrainian shtetl to Ellis Island. Ekaterinoslav is as beautiful a celebration of life—and lament for death—as you would expect from one of the world's foremost storytellers."—J. Patrick Lewis, U.S. Children's Poet Laureate (2011-2013)
"When death, 'that old interrupter,' claims Jane Yolen's father, she learns that he was born in Ekaterinoslav, not New Haven and named Wolf, not Will. A poet's job is to turn facts into truths, and Yolen, a master storyteller, does this beautifully in this memoir-in-verse, which brings to life another time and place that no longer exists, but thanks to Yolen, will now never be forgotten. I was mesmerized by these moving, heartfelt poems."—Lesléa Newman, author of October Mourning: A Song for Matthew Shepard
"Jane Yolen's new work, Ekaterinoslav, is a moving memoir, part family story, part immigrant fable. The strong narrative pull of the poems propels the reader forward wanting to know what will happen next with each personality deftly captured in the sparest descriptions of a few sharp lines. The shifting mood of the story weaves gracefully through the poems, skillfully translating historical facts and family truths. The final poem offers a personal, powerful conclusion, as Yolen moves from the past to the present using poetry 'to reinvent moment and memory.'"—Sylvia M. Vardell, Ph.D., author of Poetry Aloud Here and The Poetry Teacher's Book of Lists
"Jane Yolen knows the outlines, not the details, or even many of the major steps of her family's journey, and she uses the imagination that has helped her create more than 300 children's books as well as her family trove of old photographs to create a poetic re-creation that, in unrhymed, very loose-metered lines, makes a splendid piece of theater of the mind, distinctive yet universal, based on one of America's foundational legends."—Ray Olsen, Booklist
"Ekaterinoslav is worth reading as a statement of love for an extended family Yolen has gone to great lengths to discover, understand, and make real for others. "'Forgive me,' I whisper to my past," Yolen says. "I did not know./I did not understand." With a Caldecott Medal, a Christopher Medal, and a National Book Award nomination among her accomplishments, Jane Yolen again finds a theme that will resonate for many: "[We] are now much richer/ than grandfather ever dreamed of/and somehow poorer as well.""—Jewish Book Council
---