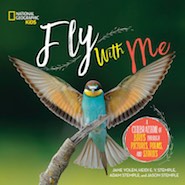 Fly With Me: National Geographic Book of Birds
This is the second book that my three children and I have done for National Geographic, the first being ANIMAL STORIES.
NG asked us to do the first book, we pitched the second. I made a rough outline and once NG gave us a contract for the book, we divided up who would do which sections. Heidi and I did the last passes on both the book and the page proofs, though I have to admit Heidi did most of that work. The book is basically nonfiction about birds (perfect for a family of birdwatchers), but is also full of poetry, stories, history, curious facts, and joy.
Also from us and National Geographic: Animal Stories
What reviewers have said:
*STARRED REVIEW* "A treasure for browsers and bird lovers everywhere." — Kirkus Reviews
"An ideal choice for family sharing or classroom browsing." — Booklist
"This book is pure gold. Your entire family will want this on your bookshelves so you can dip into it frequently. Your library patrons will be grateful when you hand them this gem. And in a classroom, this is a gorgeous, STEAM-empowering, widely-encompassing book. Read the poetry out loud, read the nonfiction narratives out loud because they're so interesting and well-written, and share the short stories, photographs, and infographics. " — Bookology
---