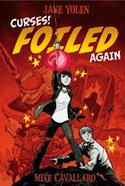 Illustrated by Michael Cavallaro
First Second 2013
ISBN-10: 1596436190
ISBN-13: 978-1596436190
This sequel was written pretty close to the time the first book came out, but publishers work in mysterious ways, and so it took (imho) far too long or book 1 to come out and I haven't yet gotten the go-ahead for book 3, but live in hope. The book took some twists, I love the Baba Yaga character, and the little fairy folk really got to have a lot of dialogue this time around. Hope my readers feel the same.
Be sure to read the first book, Foiled!
Accolades:
CFA was on the Bank Street Best Books of the Year List for 2014.
Around the web:
What reviewers have said:
"Foiled's feisty heroine, Aliera Carstairs, makes a return appearance, ready to "save Faerie from the big bad guys. The really big bad guys. You know, ogres and witches and trolls. Oh, my!" But, of course, there's also high school and fencing class, and "balancing the mundane world with the mystical" isn't exactly easy-breezy. To make matters more complicated, Aliera's got an unwanted bodyguard: Avery Castle. He's a high school hottie in daylight, but as darkness falls, he morphs into a troll. And although Avery has pledged to protect her, how can Aliera, Defender of Faerie, bring herself to trust a troll, especially when her cousin Caroline's life may be on the line? As Aliera quarrels with Avery about, well, everything, their back-and-forth thrust and parry is a clever verbal analog to actual fencing. Yolen repeats this comparison and even winks at its appearance in movies like The Princess Bride during Aliera's showdown with the Dark Lord, who is not only the leader of the trolls but, in an unexpected twist, the real betrayer of Aliera's trust. Throughout the graphic novel, Cavallaro plays with contrast, interrupting his muted gray palette (Aliera is colorblind) with bursts of bright color whenever fantastical creatures or objects appear on the scene."—Horn Book
"Yolen's smart, introspective, foil-wielding Aliera Carstairs returns, this time to thwart the Dark Lord's plot to kidnap her beloved cousin…The story line has heart and intelligence, and Yolen successfully weds faerie lore to cinema-style plot twists…"—Publishers Weekly
"The characters are engaging, and the story is well paced. Young teens looking for a quick read with a strong female character should enjoy this."—VOYA
"En garde! Gear up for more sword fights and trolls as well as an appearance from Baba Yaga in this swashbuckling sequel. Picking right up where Foiled (2010) left off (though with enough back story for new readers to comfortably jump in), Aliera Carstairs, the sassy, sword-fighting, take-no-prisoners heroine, is still battling trolls as the last Defender of Faerie. Avery Castle, the hottie who turned out to be a troll—literally—is now bound to Aliera as her vassal, causing her more headaches than heart flutters. The unlikely pair must find and battle the Dark Lord, whose identity, when revealed, isn't quite the shocking twist it was set up to be. Cavallaro keeps the stylized sensibility he established in the previous volume, rendering our world a washed-out grayscale landscape and juxtaposing it against the vibrant—though invisible to humans—world of Faerie…the book offers a lot of fast-paced fairy-tale fun, and Aliera is both admirable and easy to relate to for her fierceness and foibles. A mysterious prophecy of things to come at the conclusion results in raised eyebrows and impatience for Volume 3."—Kirkus
"The Defender of Fairie is back and as confused as ever. Sure, Aliera has her magical weapons and a loyal (if dumb) sidekick in her lab partner–troll defector, Avery, but what next? Well, it isn't long before adventure finds her. While locked away in a troll holding cell, her best friend and cousin is kidnapped. It's up to Aliera to save her, and it all comes to a head in an epic battle that tests loyalties and reveals some interesting history about her selection as Defender. Fans of Yolen's fencing fantasy, Foiled (2010), will not be disappointed by this sequel…"—Booklist
"Full of energy."—BookSake Review
"Engaging."—Mediocrity is the New Genius Review
"[W]ell-executed and action-focused rather than introspective; a rarity among books aimed at YA girls."—Paste Magazine
"Will have readers clamoring for more!"—School Library Journal Review