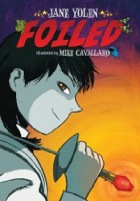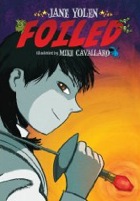 A graphic novel, first of two, about a New York City high school fencer who finds out she is the Last Defender of Faerie, illustrations by Mike Cavallero–see the book trailer!
Check out the sequel, Foiled Again!
FOILED began when my then eleven-year-old granddaughter Maddison became an avid fencer. But the story was also about my days as a college fencer and the time that I lost my foil on a date in Grand Central Station. Sometimes truth is stranger than fiction or sometimes a true story becomes even bigger in the remaking of it.
I planned to send the story to an anthology I'd signed up for. As I read the opening few pages to Maddison, who wanted to hear more, I ran into trouble. The story kept threatening to become bigger than the anthology's word limit. It wanted to be—gulp!—a novel. I stopped writing, and thought Maddison would never forgive me. Until, that is, I sold the story as a graphic novel.
Now I had long wanted to write a graphic novel. I loved Neil Gaiman's Sandman, Mike Mignola's HellBoy, Linda Medley's Castle Waiting, and Art Spiegelman's Maus. For ten or so years, I had tried to sell the idea of me doing a graphic novel to the editors I knew. But not one of them thought the graphic novel was something I—or they—could produce successfully.
Finally my agent had me meet with the head of the newly-formed First/Second Books, an imprint dedicated exclusively to the graphic novel. We had so much in common besides just being interested in comics. And he loved the start of FOILED and encouraged me to turn it into a gn. I began work on the book, thinking: This is going to be fun. How hard can it be? The short answer was: very hard. The learning curve was huge.
And Maddison? Well, she turned fifteen when the book came out. She's a ballet dancer now, not a fencer. Still, she has seen the pictures, read the script. "That's me!" she tells me proudly. And remembering my days as a college fencer, I think, "And me!"
As for the illustrations by Mike Cavallero, he put his heart and soul into them, and I adore this, my first graphic novel.
Accolades:
Foiled is listed in the YALSA 2011 Best graphic novels for young adults.
FOILED is on Graphic Novel Reporter's 2010 favorite graphic novels list.
Foiled is on the Texas Library Assn's Maverick Graphic Novel Reading List and the 2012 Arizona Grand Canyon Award Teenage Recommended list.
FOILED is one of four books on the middle grade list for the 2011 Amelia Bloomer Project List
Foiled was chosen for the 2013 Oregon Reader's Choice Award list in the Intermediate Division.
A Junior Library Guild book choice
One of the 2012-2013 OR Beverly Cleary Children's Choice and ORCA Nominees
Around the web:
Miscellany:
There will be an Indonesian edition of the book.
What reviewers have said:
"Yolen weaves her knowledge of fencing vividly throughout the plot, powerfully creating romance, mystery, adventure, fantasy, and drama, all rolled into a strong narrative."—Publishers Weekly
"Hold up! A teen female protagonist who's a competitive fencer AND a tabletop gamer? Jane Yolen, I could hug you. Yolen goes for it in creating a realistic female character who goes against the grain and isn't portrayed as a freak, weirdo, or villain. And as a former amateur fencer and a tabletop gamer myself, I was bouncing off the walls at finally seeing a character I could relate to, even if it is about 20-something years after the fact."— What'cha Reading?
"The chapters in this clever graphic novel follow the terms of a fencing match, from "Engagement" to "Disengagement," with successive stages in between. Most of the illustrations are done in two tones as Aliera Carstairs makes it through her humdrum days in high school, where she doesn't fit in. Color begins to appear when she puts on her fencing mask at Grand Central Station and the fantasy begins. Illustrations complement the text well, with larger pictures reflecting the character's situation and feelings. . . The ending will leave readers anxiously awaiting the second installment in the series."—School Library Journal
"Aliera may have listened too well to her fencing coach's advice: "You must always protect your heart." Besting competitors twice her age in tournaments and keeping to a strict routine of fencing practice, homework, and role-playing games, Aliera is a loner and likes it that way – until she becomes lab partners with the cutest boy in school. She initially resists his charms but is won over when he asks for a date. Turns out her new ruby-handled foil is the key to his interest in her, and to the yet-unseen magical dimension she must keep in balance. Yolen's first foray into the graphic format is a success precisely because she incorporates the best weapon in her arsenal – fantasy. In Aliera she has created a strong, conflicted, and relatable girl hero who wields her wariness for protection. Cavallaro's artwork suits Aliera's monochrome existence, but bursts to life when she finally sees (in color!) the faerie beasties cheering her on. The explanation and source of Aliera's status as a protector of worlds will have to wait for further volumes to be revealed."—BookList
"Veteran fantasist Yolen introduces the utterly charming and sassy Aliera, a quirky tenth-grade loner who's both color-blind and an expert fencer, in this charming graphic novel. . . An enchanting tale, with hints of a possible continuance. For fantasy lovers, this is an absolute must-read."—Kirkus
"This is fast-paced, action packed, and totally engrossing. Aliera Carstairs is a character that is going to stay with you for a while."—SFRevu.com
"One of the most anticipated young adult graphic novels to be released this year is Jane Yolen and Mike Cavallaro's Foiled (2010). And it's worth the wait!. . . Young adults and their teachers will just have to read this graphic novel to find out! Yolen's finesse for writing brilliant fantasy stories for young adults, and Cavallaro's gift for moving the reader's eye from one visually aesthetic panel to the next, will certainly keep the reader engaged, the teacher enthralled, and provide pedagogical opportunities aplenty."—Diamond Bookshelf
"Jane Yolen has written more than 300 picture books and novels for middle grade and young-adult readers, which must make her some kind of grande dame of children's literature. This happens to be her first graphic novel, but she's a natural. The story is told with a skilled sense of pacing and suspense, and a depth that's reflected in illustrator Cavallaro's charming drawings. . . Good fun."—Philadelphia Inquirer
"As one might expect, [Foiled] is a gem…Yolen is adept at hinting of fabulous worlds projecting into the ordinary, and showing teens rising to otherworldly challenges."—Lands of Pleasure
"Anyone who loves reading Yolen's fantasies will like her graphic format debut, as will anyone who likes urban fantasy."—VOYA
"Foiled is a real winner and one hopes to see more of Aliera and her adventures soon."—Fantasy Magazine
"This insightful, entertaining debut of a promised two-book series is sure to win [Yolen] a whole legion of new fans."—Bookgasm
"I am very biased toward girls-with-swords stories, but I haven't loved a graphic novel this much in a long time."—Comics Girl
"The story is told with a skilled sense of pacing and suspense, and a depth that's reflected in illustrator Cavallaro's charming drawings."—Philadelphia Inquirer
"This one is an absolute surprise gem for fans of girl comics. It is funny, smart, and the art is wonderful."—MooreTeensUnite.com
"Give this one to the quiet teen girl voraciously reading urban fantasy."—Graphic Novel Reporter
"Aliera is such a great character!"—Manga Maniac Cafe
"Yolen uses familiar tropes like the kid with special powers and a mission to save the world, magic swords, and hidden kingdoms, but she takes them somewhere new in this urban fantasy, showing readers how powerfully voice can drive a graphic novel."—Book Aunt
"I have always appreciated the power of the graphic novel as a story telling medium especially when it rises above the comic forms roots of superheroes, and other male adolescent power fantasies to embrace a richer narrative and deeper characters. With that firmly in mind I was quite happy to engross myself in Foiled from First Second Books. Jane Yolen's story keeps it hands full with both a very heartfelt story and a very relatable female protagonist. Mike Cavallaro's illustration is crisp, captivating and as emotive as the story."—Missions Unknown!