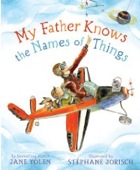 My Father Knows the Names of Things
MY FATHER KNOWS THE NAME OF THINGS
Illustrated by Stephane Jorisch
Simon & Schuster 2010
ISBN# 1416948953
When my husband David was desperately ill with the cancer that finally killed him, I began to write this little rhymed story as a memorial to him and the fine father he had been to our three children. And a brilliant grandfather as well.
The children and their cousins all called him "The Man Who Knows Everything" because of his fierce and wonderfully ranging mind that encompassed computers, natural science, birdsong, ecological disasters, politics, history, philosophy, poetry, languages—and so much more. He was in more than one of my books: as the Wind in THE GIRL WHO LOVED THE WIND and most famously as Pa in OWL MOON.
The publisher told me that when he and the editor took the manuscript to the publishing committee and read it aloud they broke into spontaneous applause.
Stephane Jorisch was unknown to me before becoming attached to the project, but the illustrations are more than good. They are perfectly wonderful.
What reviewers have said:
"This delightful tribute to dads recognizes the importance of fathers as guides in their children's lives. . . .Master poet Jane Yolen has crafted a rhythmic paean to the father-child bond which is graced by Stephane Jorisch's lively watercolors"—WashingtonParent.com.
"There aren't that many good dad picturebooks for older kids. Toddlers, yes there's quite a few of the "I love my daddy" variety . . .but for older kids? Nope. Now, we have an excellent one. Jane Yolen's rhythmic text accompanies Jorisch's sparkling colors and energetic art to extol all the many things a child's dad knows, from the names of clouds to "which dinosaurs are meanest." Don't just pull this out on Father's Day, bring it out all year to enjoy. I'm looking forward to having the kids guess at the names of things in the illustrations….how many will they know? And how many can they make up"—Jean Little Library
"Yolen's easeful rhymes and Jorisch's warm illustrations craft a bighearted tribute to fathers' seemingly infinite capacities for information–and their willingness to share it."—Publishers Weekly
"There aren't that many good dad picturebooks for older kids. Toddlers, yes . . but for older kids? Nope. Now, we have an excellent one. Jane Yolen's simple rhyming text accompanies Jorish's sparkling colors and energetic art to extol all the many things a child's dad knows, from the names of clouds to "which dinosaurs are meanest." Don't just pull this out on Father's Day, bring it out all year to enjoy."—http://jeanlittlelibrary.blogspot.com
"This wonderfully lyrical picture book with its deliciously quirky illustrations serves as splendid tribute to all those dads who take the time to teach their children about the world around them. Though the facts they share might not be important in the big scheme of things, for the child the time they spend together is priceless."—Looking Glass Review
"It is an ode to fatherhood and the respect it should receive."—Book Views by Alan Caruba
"This is a great book for sons and their fathers."—Cool Baby Kid
"Yolen's poem is clever, silly and great fun to read. It's couplets are merry and jaunty. The rhyme is never overpowering and the rhythm adds to the appeal. Jorisch's watercolor and gouache illustrations also have a wonderful sense of play. They have a quirky modernism that captures the feel of the poem and adds to it.This book celebrates knowledge and imagination as well as the father son relationship. It is a treat for any time of year.".—Kids Lit
"Acclaimed children's author Jane Yolen wrote the delightful tribute My Father Knows the Names of Things in honor of her late husband, David Stemple. The encyclopedic dad in this book knows the names of many wonderful things, including mosses, insects, fish, cows, stars, cats and candies. Stéphane Jorisch's illustrations (watercolor, gouache, pen and ink) are whimsically delightful, making the father/child explorations great fun.".—BookPage
"It is not unusual to discover that a youngster believes his father knows everything. This picture book with its adorable illustrations just confirms the fact that the old man is a virtual, fountain of wisdom!".—BookLoons
"Yolen's rhyming text is perfectly complemented by Stephane Jorisch's watercolor-and-ink illustrations, which show a father-son duo cavorting through color-splashed pages, enjoying each other's company as they fly an airplane, do a bit of bee-keeping and swim in the sea.".—Scripps Howard newspapers.
"Master poet Jane Yolen has crafted a rhythmical paean to the father-child bond, which is graced by Stephane Jorisch's lively watercolors. Especially engaging are Jorisch's plump cats, yip-happy pooches and busy bugs. The book ends tenderly with the child tucked into bed and a sense of a legacy passed on: '[Dad] points out everything we see/And teaches all the names to me.'".—Washington Parent
"There is time enough for kids to learn their parents have feet of clay–this breath of fresh air is just right until then."–Kirkus
"The paintings are detailed and varied and do an impressive job of depicting the imagery in Yolen's poem."–School Library Journal
"Yolen's easeful rhjymes and Jorisch's war, illustrations craft a bighearted tribute to fathers seemingly infinitie capacities for information–and their willingness to share it."–Publish's Weekly