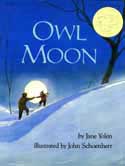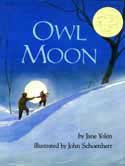 OWL MOON
Illustrated by John Schoenherr
Philomel 1987
ISBN# 0-399-21457-7 Philomel hardcover
ISBN# 0-590-42044-5 Scholastic paperback
This gentle tone poem about a father taking his daughter (yes–it's a girl!) out owling one cold wintry night is arguably my best book. Certainly it's my best known book. The 1988 Caldecott Medal winner for John Schoenherr's beautiful, frosty, tender, exacting pictures, the book has been translated into nine languages, been an ALA Notable Book, a Reading Rainbow book, a Junior Literary Guild selection, and on dozens of state award lists.
Though I envisioned the book in the little woods near our house, Schoenherr used his own farm in New Jersey as the setting. The father is my husband David, the child our daughter Heidi. It's not an exact story of David taking Heidi out owling, but an amalgam of many such trips he did with all of our children. I purposefully didn't mention the child's gender, though the flap copy gives the secret away. Heidi is now an adult with her own daughters, Maddison Jane and Glendon Alexandria. Their grandfather–Pa–has already taken them out owling.
The only paperback edition so far is the Scholastic Book Club edition, not sold in bookstores. Publishers like to keep books in hardcover as long as possible (read: as long as it's selling well). It will be some time by that measure before "Owl Moon" goes into paperback. There are over a dozen editions in foreign languages, including French, German, Chinese, and Korean. I wrote an article for the New Advocate magazine called "On Silent Wings" in the Fall 1989 edition that tells the complete story of the making of the book and what happened on the day the Caldecott was announced. The book was one of Yankee Magazine's 100 Classic New England Children's Books. It was also on the 1989 Kentucky Bluegrass Master List and a 1991 North Dakota Flickertail Award nominee.
Accolades:
#16 on School Library Journal's Top 100 Childrens Books List
One of Yankee Magazine's 100 Classic New England Children's Books
1990 Florida State Reading Award nominee
On the 1989 Kentucky Bluegrass Master List
1991 North Dakota Flickertail Award nominee
Around the web:
Recordings:
There is a video of OWL MOON from Weston Woods/Scholastic. John Schoenherr's Caldecott Acceptance speech can be found in the August 1988 issue of The Horn Book and on a Limited Edition tape made by Weston Woods/Scholastic.
"Owl Moon" song by Bruce O'Brien from his tape "Love is in the Middle".
The models for the Owl Moon characters:
What reviewers have said:
*"An exquisite mood piece…The elusive magic and gentle shivery excitement that accompany the twosome is felt by the reader…powerful and evocative watercolor illustrations" Starred Review — Booklist
*The play of shadows…perfectly match the mood and sensitivity…[which] seem to invite readers into this
special nighttime world." Starred review — School Library Journal
"This book has a magic that is extremely rare in books for any age." — The New York Times
"The shared experience of the mysterious, natural night-world seems the more important message of this lovely, quiet book." — Kirkus
"Owl Moon invests the sights and sounds of a moonlit forest with such mysterious presence as to reveal the sacred quality of natural things." — Minneapolis Star Tribune
Buy OWL MOON from: