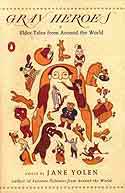 Gray Heroes: Elder Tales from Around the World
GRAY HEROES: Elder Tales from Around the World
Viking 1999
ISBN# 0-14-027618-1 Penguin trade paperback
Published for adults.
An anthology of folk tales in which the heroes are all older or elderly. My contribution to the AARP set. (Of which I am a member in good standing.) I was surprised that there had never been any such volume before. A long essay on aging and storytelling begins the book. It was a winner of the 2000 Anne Izard Award
Winner of one of the Fifth Anne Izard Storytellers' Choice Award, year 2000
What reviewers have said:
*STARRED REVIEW* "This very attractive small book will leave children with smiles, and a new understanding of the concept of sizes, through comparisons and contrasts. . .Yolen's succinct, clever text is imaginatively and amusingly complemented by Bolognese's modern, exuberant illustrations, some brightly colored; together author and illustrator introduce the concept of family love with warmth and insight as well as the idea of sizes."—Library Journal
"…delightfully presented in whimsical verse and happy illustrations."—Ancorp news of Books
"Many of these tales will be new to the modern reader; most celebrate the wisdom and courage of people who have learned life's lessons well and who are still open to experience and even love."—Publishers Weekly
"Where is it written that fairy-tale heroines must be fresh-faced lovelies waiting for a broad-shouldered Prince Charming to sweep them off their feet? Oldsters have adventures, save people, fall in love, too. One place to look is Gray Heroes.. . .In Gray Heroes old folks get to flex a little muscle and have a little fun."—Washington Post Book World
"There is a whole panoply of ways of looking at the fastest-growing segment of our society. Yolen's introduction is clear and wise but unsentimental, her selection generous but not overwhelming…Gray Heroes is among the most important of her anthoogies to date."—Locus Magazine
"Gray Heroes is readable,browseable,and accessible to various age groups.It is a one book for a grandparent to read to a child or a spouse:the tales are often humorous,and the craft and cleverness of the elders more than supplant the loss of the physical prowess of an Athena or Achilles,physical abilities whichare naturally, but not always, gone in the elder tales."—Marvels and Tales, a folklore Journal
"Yolen has done us all an immense service by bringing together a batch of stories from different cultures where elders "wear their long years well…These gray heroes model for us a new way of being."—Spirituality & Health
Available in paperback.
---
Order from:
Search for Out of Print Books: