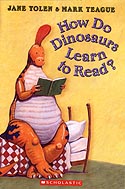 How Do Dinosaurs Learn to Read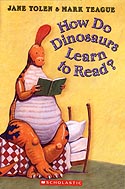 HOW DO DINOSAURS LEARN TO READ?
Illustrated by Mark Teague
Scholastic 2018
ISBN-10: 1338233017
ISBN-13: 978-1338233018
Near the very beginning of the Dino-STY, as I call the How Do Dinosaurs 6/books, I wrote a short book about How Do Dinos Learn to Read that Scholastic made into a small paperback giveaway for teachers. And then every year after that I said I wanted to do a big book about it but everyone shrugged or said no, until 2016/7 when suddenly they wanted it. I made it bigger and better and funnier, and out it came Fall 2018 with Mark Teague at the height of his illustrator powers. And the editor even appended a note to parents as to how to teach/encourage their children to read. And I got to record an audio/possible video book of it for Weston Woods. And now everybody is happy. With a big thank you to Bonnie V the editor who never lets things go!!!