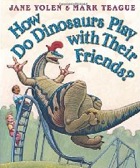 How Do Dinosaurs Play with Their Friends?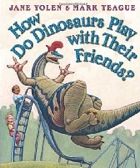 HOW DO DINOSAURS PLAY WITH THEIR FRIENDS?
Illustrated by Mark Teague
Blue Sky Press 2006
ISBN# 043985654X
The Dinosaur books keep on rolling along. This was one of two board books I wrote at the same time, and Mark did a wonderfully compressed version of the bouncy, adorable dinos for it. In record time, I might add. The book was ready long before the contract!
There is a Spanish edition as well.
What reviewers have said:
"How about a board book featuring dinosaurs that also imparts a lesson relating to play behavior? The text provides some examples of things not to do–not sharing, not treating your friends or your toys with care, and not taking turns or playing games that others might enjoy. Good dinosaurs do not behave that way, and they make sure that you get a turn and choose games that you will both enjoy. Illustrator Teague presents a variety of dinosaurs, and young kids will delight in learning and saying those tongue twisting names. The book is also available in Spanish. Kids will be pleased to see that the dinosaur names are the same in both languages. It might be a very good choice for kids learning either language if you can get the pair._ –Children's Literature Review