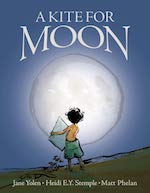 with Heidi E Y Stemple
Illustrated by Matt Phelan
Zonderkidz (April 9, 2019)
ISBN-10: 0310756421
ISBN-13: 978-0310756422
A lyrical book about a little boy, his obsession with the moon, and how he becomes an astronaut who gets to walk on the moon. And though the book is dedicated to Neil Armstrong, it's not about him. It's about desire, dedication, and hard work. In fact, the very things that created the book itself.
The book began not as a moonwalk book but as a kite book. My father was
International Kite Flying champion. Had books about kites published. At one point he was in the Guinness Book of World Records for flying the most kites on a single string. I began writing about him (in a metaphoric way. He'd never flown kites as a boy, it was an adult obsession.) Along the way the manuscript morphed into a book about an astronaut. (These thing happen!)
I loved the book, my agent loved the book, but no editor wanted it. So I put it in a drawer and forgot about it.
Ten years or so later, an illustrator friend mentioned in passing that he would love to do a book with me. And I told him I'd love to do a book with him. Asked my daughter Heidi Stemple, herself a writer/editor and my PA if she would find me the latest iteration of the book in the files. Due to a computer disaster, those files had been destroyed. But we had back up paper files.
She did, but first read it through, and said to me, "It needs work. Can I take a whack at it?" I thought she meant a small tidying up, a little cut/paste. We had worked together on nearly 20 books at that point so I said, "Sure". But instead of using pair of small scissors, a needle and thread (this is a metaphor!), she whacked at it with a big machete. And when she was done, and I saw how brilliant a little book it was. "This is not my book any longer," I said. "It is OUR book."
We sold it to the first editor who saw it, convinced her to put Matt Phelan on the project as illustrator (not the other illustrator friend who'd moved on) Heidi wrote about this in a blog: "We were sitting at a conference listening to lectures when Matt Phelan got up to speak. His art was being shown and, there was a piece he had with kids in a classroom and my head exploded. THAT was our kid! I poked JY in the side (she didn't appreciate that) and whispered "Kite! Kite!"
Once I explained what I meant, we both went to work on Zonderkidz to approach Matt to illustrate. He said yes. The only thing we changed after that was the last page originally said 'listened' and we changed it to "watched" based on Matt's amazing last page. I don't want to give anything away, but when I read the last 2 pages, I still get choked up."
The book began garnering grand reviews when it came out in the 50th anniversary year of the Moon Landing.
Accolades:
Bank Street Best Books list 2020
What reviewers have said:
"Yolen and Stemple remind readers of the simple awe of a most wonderful journey." — Publisher's Weekly
"The allure of the moon has been a favorite theme for picture book authors from Margaret Wise Brown and Eric Carle to Frank Asch and Mordicai Gerstein. Yolen has explored it previously in Owl Moon. Here, writing with her daughter, she imagines the trajectory of an astronaut's lifelong interest. The text is spare but full of warmth and lyricism. Phelan's lively, flowing inked outlines convey both the steadfast connection between boy and orb and the movement born of passion. The paintings contain subtle and pleasing parallels, e.g., the rocket's orange and yellow exhaust mimics the flame-colored tail of that childhood kite; the conclusion echoes the opening while extending the message. VERDICT Smooth pacing and narrative clarity combine with an evocative presentation to make this a first choice to celebrate the 50th anniversary of America's moon landing." — School Library Journal
"…certain to be an enduringly popular and appreciated addition to family, daycare center, preschool, elementary school, and community library picture book collections."—Midwest Book Review