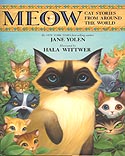 Meow: Cat Tales From Around the World
MEOW: CAT TALES FROM AROUND THE WORLD
Illustrated by Hala Wittwer
HarperCollins 2005
ISBN# 0-06-029161-3 hardcover
Here is a complicated and ironic book history. About ten years ago I sent around a proposal for this book, listing about fifteen cat folk stories I'd like to retell. Every publisher I sent it to (including Harper) turned it down.
Fast forward about five years. I get a phone call from editor Phoebe Yeh at Harper. She had been working with a wonderful cat artist, who had done a picture book with them. The cat artist was now ready for an even bigger challenge. Phoebe knew how much I loved folklore, though not sure that I liked cats. (I do!) But the Harper Pub Committee thought it was a great idea: would I ever consider writing a collection of retold cat tales for this artist? With the understanding that she didn't draw humans.
I said I was very interested.
Then Phoebe asked, "Would I send them a proposal–just for the final pass through the committee?" Of course I would.
I went immediately into my files, found the old proposal, dusted it off, and sent it out the next morning, thus preserving my reputation as the fastest writer in the East.
Phoebe had me rewrite the stories for a younger audience and then–wait for it–the cat artist pulled out of the project. We were back to square one, except I had a contract, been paid, and the revised mss. accepted. So then Phoebe came up with an inspired idea: Hala Wittwer, who'd been doing the covers for my Young Heroes novels–wanted to move into picture books. She was a cat lover as well, which was a plus. The result is a gorgeous book, about two years later than we'd planned, but well worth the wait.
There are nine stories from all over the world, four pages of cat sayings/adages from around the globe, four pages of cat nursery rhymes. And of course Hala's gorgeous (and humorous) drawings.
What reviewers have said:
"Yolen captures the heart of each story, and the resulting text begs to be told or read aloud. . . .Wittwer's richly colored paintings fill the pages with the essence of feline charm, power, and wit. A book to savor like, well, a bowl of cream."–School Library Journal
"Stories ideal for reading aloud and bright, appealing pictures make this collection, put together by acclaimed author Yolen, a natural for young cat fanciers."–Booklist
"Glowing illustrations of more than 50 cats in their native homes lavishly grace the pages of this luminous picture book painted by Hala Wittwer. The exquisite art and well-crafted text make MEOW the perfect gift for both child and adult cat lovers."—Saturday Evening Post
"This collection of feline folklore, nursery rhymes and sayings from India, Scotland, Tibet, Oman, Burma, Japan, Ethiopia and elsewhere proves that people everywhere are fascinated by cats. The book supposedly is for children ages 4 to 8, but anyone who's fond of felines should find these tales from far-flung places intriguing, and Wittwer's wide-eyed kitty images are a joy to behold."– St Louis Post-Dispatch
"When you pick up a book by best-selling author Jane Yolen you know you are in for a treat. Her latest book, MEOW, is just that. . .Hala Wittwer was the perfect choice to illustrate this book. Her paintings are simply gorgeous–vibrant, luminous, and full of detail. . .Highly recommended." –Education Oasis
Hardcover available.
---