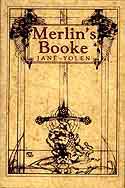 Ace Books 1986
ISBN# 0-441-52552-0 Ace paperback
ISBN# 0-916595-03-X SteelDragon hardcover
SBN# 0-916595-04-8 SteelDragon hardcover
Stories and poems all centering on the great wizard, Merlin. Some are historical, some completely magical. From his birth to his death–and beyond. A few of the stories were published first in F&SF Magazine, and a number of poems and stories have been subsequently reprinted in textbooks and anthologies. I have used some of the stories for the starting point of children's novels–The Dragon's Boy and the Young Merlin Trilogy (Passager and Hobby especially) came from short stories in the collection. Sword of the Rightful King also got its start in a Merlin's Booke story. The book is cited often in Arthurian lists. SteelDragon Press, a small press run by Emma Bull and Will Shetterly, did two hardcover editions of MERLIN'S BOOKE, one a plain hardcover, the second with endpapers and signed by Tom Canty and Jane.
Accolades:
Nominated for the 1987 Mythopoeic Award
Around the web:
What reviewers have said:
"Yolen's limpid prose gains an aura of otherness by her skillful use of archaisms. Arthurian and fantasy collections will welcome Merlin's Booke ." — Library Journal
"Yolen's evocative prose and poetry are equally based on scholarship and her intuitive sense of psychological rightness: She violates nothing we think we know about Merlin, the man or the myth. The homely and the mystical are woven together especially well in 'The Sword and the Stone,' where Merlin learns something about women and the power of a pat of well-placed butter, and in 'Dragon's Boy,' a moving reminder of the meaning of 'the child is father of the man,' and a classic of a special kind in Yolen's luminous contribution to the Arthurian canon." — The Christian Science Monitor
""Yolen's prose is, as always, lyric and spare, reminiscent of the timelessness of folk tales, but definitely a contemporary voice. This is a must-read for all fantasy and Arthurian enthusiasts." — Ottawa Citizen, review by Charles de Lint
""Perhaps the most remarkable feature of this extraorindary book is the obvious care that Yolen took in creating new legends to add to the Merlin ethos. Her language is polished and precise…Some of the tales sound as if they had been handed down for generations, so magical and enthralling is Yolen's prose." — Small Press Review
""As always, the author's storytelling is flawless, her language both vivid and intricate. Yolen is a master of the form of short fiction and this collection enhances her strength further by focusing on a theme that has held the imagination of readers for hundreds of years."– Mythprint