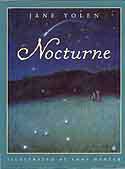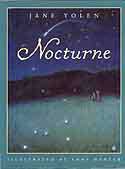 NOCTURNE
Illustrated by Anne Hunter
Harcourt Brace 1997
ISBN# 0-15-201458-6 Harcourt hardcover
A tone poem about a boy going to bed which I wrote for artist Anne Hunter after seeing her portfolio. I call this my homage to Dylan Thomas, because of the sensuous wordplay in the text. To make up the word "hullaballooning" it took me well over a week. Poems are like that.
What reviewers have said:
"Poetic images of what happens "in the night, / in the velvet night" are kept from becoming overblown by unpretentious pen and ink, watercolor, and colored-pencil illustrations of a mother and son and their pointy-nosed dog exploring the darkened yard. Through a combination of sweeping views and intimate close-ups, common suburban creatures, such as moths, raccoons, and squirrels, take on that magical, otherworldly quality that nighttime brings." — Horn Book
"As you tuck your little one into bed, this sweet book is like a lullaby, gently leading your child into a secure, peaceful slumber filled with good dreams and pleasing images and thoughts. … Beautiful in every way, this book is a winner for the bedtime set." — JewishKnows
"Yolen's short ode to evening touches upon the moon and fireflies, moths, an owl, and small nocturnal animals. Double-page paintings of a nighttime countryside feature flat figures of a boy, his mother, and their dog outside their lighted house. Hunter's simple scenes are nicely textured with cross hatching, and her homely animal portrait–a bat in flight, a squirrel asleep in a tree hole, a raccoon, an owl, and a sleeping dog–are appealing."–School Library Journal
Out of print.
---
Order from:
Search for Out of Print Books: