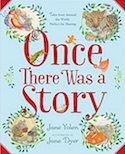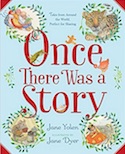 ONCE THERE WAS A STORY
Illustrated by Jane Dyer
Simon & Schuster/Paula Wiseman Books 2017
ISBN-10: 1416971726
ISBN-13: 978-1416971726
Retold folk and fairy tales from all over the world, reimagined for the youngest listeners.
This is another book that took about twelve years to come out. My part–the finding and retelling the stories–was done within months of signing the contract. But the wonderful Jane Dyer, the illustrator, had some health problems that took up the greater part of three years on and off. And then the editor lost the copy of the manuscript, which I resent. Then she had me revise several times, which I did. Then she seemed to misplace the revisions but they were found. Then she wanted two different stories, which I wrote.
The book is gorgeous, well designed, well edited. And I think I told the stories pretty nicely as well. So you see, everything came round right in the end. Just like a good story!
Accolades:
Anne Izard Storytellers' Choice Award
What reviewers have said:
"This beautiful volume offers a selection of the folktales and fairy tales that are just right for sharing with preschool and primary-grade children….a pleasure to read and share. From gouache paintings depicting scenes from the stories to the small black-and-white silhouettes that appear after the closing rhymes, Dyer's lively illustrations appear on almost every page and depict both human and animal characters with energy, warmth, and grace. A fine source of tales for reading aloud." —Booklist
"Writing in a warm, welcoming voice peppered with humor, Yolen retells more than thirty myths, fairy tales, and fables…Dyer's dainty gouache-and-pencil spot illustrations bring additional liveliness to each tale in a collection that's ideal for bedtime or story time." —Publishers Weekly
---