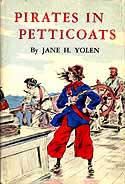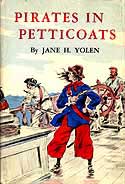 PIRATES IN PETTICOATS
Illustrated by Leonard Vosburgh
David McKay 1963
ISBN# LC 63-16693 McKay hardcover
Non-fiction about women pirates, including Anne Bonney and Mary Read (see Ballad of the Pirate Queens), this was my very first book. But it wasn't the first time I'd written about women pirates. In fact I'd included two of them (Bonney and Read) in a little book I wrote in 7th grade. The greatest pirate in the world was a woman, Madame Ching, who lived at the beginning of the nineteenth century and commanded 2,000 boats and 70,000 men.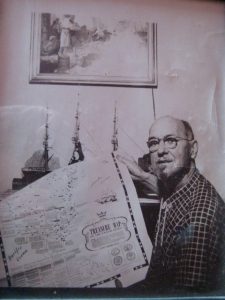 This is a photo of Robert Neismith, sent to me by his grandson. Neismith was somewhat older than this when he helped me with my research for Pirates in Petticoats.
Recording: "Pretty Peg" from PIRATES IN PETTICOATS was made into an audiotape, Houghton Mifflin 1973, "Adventure Stories 2: Stampedes and River Crossings."
Out of print.
What reviewers have said:
"Recommended as good, true adventure." — Library Journal
"Jane Yolen has rounded up a dozen or so members of the weaker sex who practiced piracy and has written their stories with apparent relish." — Elementary English
"They are some of the craftiest, boldest, and most daring pirates who ever lived, and their stories are indeed rich literary fare." — Gazette–Emporia, Kansas