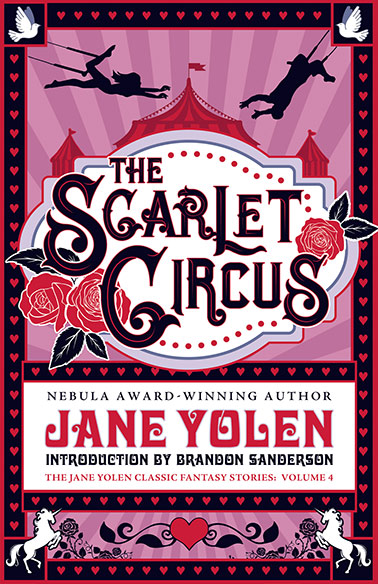 Tachyon Publications (February 14, 2023)
with an introduction by Brandon Sanderson
ISBN-10: 1616963867
ISBN-13: 978-1616963866
This is the fourth Tachyon collection of themed fantasy stories with backmatter and poems to go with each story. This one is all love stories that are full of magic and mystery and—of course—love. The stories had been published in other collections of mine, anthologies other people put together, and literary and sf magazines, but this is the first time they are all together by theme.
The complete Tachyon collections:
What reviewers have said:
"As skillful as

The Emerald Circus

(2017), thematically warmer than

The Midnight Circus

(2020), this volume's central thread is love. Featuring an introduction by Brandon Sanderson, it collects more of Yolen's reimagined narratives, many of them previously published. But fairy-tale endings are not guaranteed: Characters choose badly, and death and other sadness enters in. Julie appears from her grave, mourning Roman, in a wry rewrite of Romeo and Juliet narrated by an elf. Several tales are about the power―for good or ill―of belief; merfolk, djinn, and ghosts play major roles. There is time travel and some real history as well as appearances by Merlin and Arthur, Alice Liddell, and many brave and independent young women. The rich and varied plots and tones are matched by advanced but suitable vocabulary―fortuitously, lambent, incorporeal, slatterns, sepulchral, and legerdemain, for example―much of which young readers will be able to decipher from the context. Occasional poems are interspersed among the stories. The fully realized details bring to life both this-worldly and otherworldly settings.

Yolen enthusiasts will be rapt, and new fans will be won. Endlessly imaginative, superbly crafted tales that stir the heart.

" ―

Kirkus

"For this whimsical collection, World Fantasy Award winner Yolen (

The Midnight Circus

) brings together 11 fantastical shorts centered on romantic love. Yolen's trademark fairy tale styling is on display throughout, with vivid, pithy prose animating each quirky flight of fancy. In her author's note, she complains that dictionary definitions of romance are all too 'human-centric.' Indeed, these tales feature romance between all manner of magical creatures: a fey man falls for a ghost in the comic 'Dusty Loves,' though she's more interested in haunting the boy she left behind; a sailor witnesses the love between a family of merpeople in the sweet 'The Sea Man'; a princess meets a man who may or may not be a unicorn in standout 'The Unicorn Hunt'; and an enslaved man finds romance with a djinn in the dated 'Memoirs of a Bottle Djinn,' the weakest piece. Many stories riff on the familiar: 'The Sword and the Stone' offers a fresh take on King Arthur, while 'Peter in Wonderland' imagines an adult Alice falling down the rabbit hole again . . . this enchanting collection is sure to charm." ―

Publishers Weekly

"

The Scarlet Circus

is a magical collection of love stories, where love is often an act of courage and intelligence. Jane Yolen has a true storyteller's voice―a voice that makes the writing disappear so that only the stories remain." ―Anne Bishop,

New York Times

bestselling author of the Black Jewels series

"A magnificent and beautiful anthology from a master storyteller! Jane Yolen's stories and poems reach directly into your heart and fill you with the loveliest kind of magic. I absolutely adored it." ―Sarah Beth Durst, award-winning author of The Queens of Renthia series

"All these years, and Jane Yolen still reduces me to helpless, gibbering admiration. I'll read anything with her name on it, even if it's just a damn grocery list!" ―Peter S. Beagle, author of

In Calabria

"In the fairy tales and poems of Jane Yolen's

The Scarlet Circus

, there are curious permutations of haunting, mesmerizing love stories. . . It's in these splendid spaces between the book's winking tributes to sentimentality and its swerving surprises that an unabashed sense of romance lingers." ―

Foreword

"Jane Yolen spins captivating tales of whimsy, romance, brave knights, dragons, and twist endings. It was like reading the Grimm's fairy tales as a kid―it has that same timeless feel. I was immersed in every story." ―Heather Wallwork, author of

Entwined

"A charming bouquet of love stories from a heady array of fantastical viewpoints. Here be magic, and romance." ―Susan Palwick, author of

All Worlds Are Real

and

Flying in Place

"Jane Yolen is not only one of the best writers I know of, she's also consistently excellent. A Grand Master, old-school style!" ―Mercedes Lackey, author of the Valdemar series

"Jane Yolen is a national treasure. Cozy up, and let the master take you beyond the fields you know." ―Sherwood Smith, author of

Crown Duel

5/5 stars. "This isn't your typical romance novel though. That romance has a broad definition and doesn't always have a happy ending. In fact, some of the stories are quite dark. I really like it when Jane Yolen takes a story you think you know and turns it on its head." ―

The Neverending TBR List

"With romantic tales inspired by history, dragons, and literature,

The Scarlet Circus

is a bright romance anthology marked by people's agile maneuvers. ―

Foreword

"Yolen expertly weaves together a tapestry of romance, with the weft made of magic and the warp made of humanity's joys and tragedies." — The Library Ladies
"I greatly enjoyed The Scarlet Circus and found many more gems of Yolen's to treasure and carry with me. This collection has an inventiveness that is belied by the ease of Yolen's writing." — Universe in Words
"The Scarlet Circus is another fantastic collection by a master storyteller, one that should be added to every fantasy lover's library." — Witty & Sarcastic Book Club
"Yolen is an alchemist who twists everyday words into something magical. And love is something to enjoy experiencing in our reading. Yolen's takes on it in this collection are magnificent. Pick The Scarlet Circus up, and prepare to be seduced, mesmerized, and enthralled." — Mary Lynne's Reviews
Get THE SCARLET CIRCUS from: