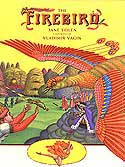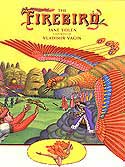 THE FIREBIRD
Illustrated by Vladimir Vagin
HarperCollins 2002
ISBN # 0-06-028538-9 hardcover
ISBN # 0-06-028539-7 library edition
I first came upon the story of Firebird in the ballet, when Maria Tallchief as the Firebird and Francisco Moncion as Prince Ivan performed in New York on November 27, 1949. The ballet was choreographed for the New York City Ballet Company by George Balanchine to music by Stravinsky. I was one of thousands of little girls who wanted to become ballerinas, but I was luckier than most. I got to train at Balanchine's School of American Ballet. We students were allowed to watch rehearsals, but only if we were absolutely quiet and did not move out of the room the entire time–not even to get something to eat or to go to the bathroom. Once out, you were not allowed back in!
One day Maria Tallchief hung her practice tutu on my locker. I took it as a sign. I vowed that I, too, would one day dance Firebird. When I grew up, I no longer danced en pointe. In fact I no longer dance at all. I have flat feet and a round body and short legs. Alas, not a dancer's body. But I feel in this book I have kept my vow.
A note about Prince Ivan. I love him. He is a typical hero of Russian folktales–a good hunter, a lover of beautiful women, and handsome. But I love even more something that the composer Igor Stravinsky has said about the prince: "simple, naive, sometimes even stupid, devoid of all malice, and … always victorious over characters that are clever, artful, complex, cruel and powerful." Sounds like American politics in a way!
The book has received the Oppenheim Toy Portfolio's Best Book Award Gold for 2002.
What reviewers have said:
"This gracefully structured picture book introduces readers to the famous Firebird ballet…and the Russian folklore that inspired it….Yolen crafts her well-paced tale from a variety of sources (listed in an author's note), including her own childhood memory of seeing Firebird danced by Mary Tallchief in 1949…From the brilliant, red-plumed Firebird to the sumptuously decorated house of the wizard, Vagin's crisply rendered paintings evoke czarist Russia." — Publisher's Weekly
"Yolen's tale is, as always, professionally and smoothly told, with the polished cadences of an authentic folktale. Highly detailed illustrations capture the Firebird's vibrant feathers, the ornate Russian costumes, and the fearful appearances of the wizard and demons." — Kirkus
"The text makes the story clear and exciting." — School Library Journal
"A Russian folktale and famous Balanchine/Stravinsky ballet have been brought together beautifully in this wonderful children's story. … A wonderful way to introduce children to the ballet." — Children's Literature
"Award-winning author Jane Yolen takes the classic Russian folktale of The Firebird and creates a compelling story which is sure to become a family favorite. … This is a beautiful retelling of The Firebird, which should enchant both children and adults." — The Writers Write, The Internet Writing Journal