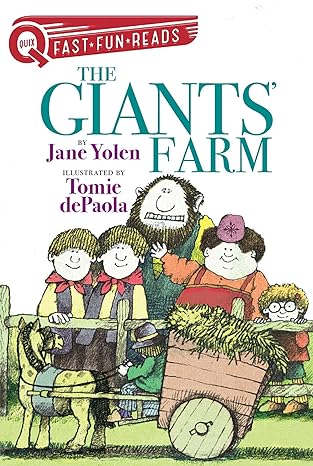 Illustrated by Tomie dePaola
Aladdin (February 7, 2023)
ISBN 10: 153448857X
ISBN 13: 978-1534488571

The Giants' Farm began when my husband and I  bought an old farm and fourteen acres in Hatfield, MA some 50 years ago.
I wanted to call it Fe-Fi-Fo Farm. My husband and our three children were mortified. He suggested Phoenix Farm, which it is now. And the children said, "Mom, just write a book about Fe-Fi-Fo-Farm. So, I did.  It was published a long time ago and is now coming out with sequels as an early reader series. Dear Tomie dePaola, who died last year, did the first two books long ago. But the new books will b illustrated by someone who can copy his style.
What reviewers have said:
"Yolen's easy-to-read storybook is easy to take, an infectiously giggly collection of five tales about five giants. . .a natural to seduce  beginners into the world of books."–Publishers Weekly
"Expertly written. . ."School Library Journal
"A quiet  story about sharing and living together as a family. De Paola's illustratins accurately capture the different giant personalities."–Association for Childhood International
"The modest yet hilarious episodes are almost perfect for the beginning reading crowd. And the bon-bon recipe is really good-good."–Dallas Morning News
"Whimsical. . ."–Booklist
Get GIANTS' FARM from: