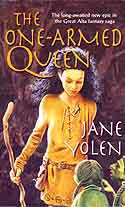 THE ONE-ARMED QUEEN
Tor Books 1998
ISBN# 0-312-85243-6 Tor hardcover
ISBN# 0-812-56479 Tor paperback
ISBN# 0-765-34358-4 Tor Teen
Published originally for adults.
I hadn't planned to write a third book of the Dales, after Sister Light and White Jenna. In fact, I killed off all the main characters in White Jenna so I wouldn't have to write a trilogy. But there was this nagging question in my mind: what happens in a kingdom after the great heroes are dead? So I wrote a book about Jenna's children, and in so doing, had to back up a bit and show Jenna still alive. The book was highly praised, especially for its scenes between mother and daughter. But it never reached the underground swell of fans that the first two books did, probably because there was very little magic in it.
What reviewers have said:
"As has come to be usual for the hyperprolific Yolen, the tale is well told in all particulars, including historiographical interludes that satirize academic fashions and politics as well as 10 songs in Celtic style, collaborations by Yolen and her musician son, Adam Stemple, that appear in score, with tablature, in an appendix. Demanding but excellent fantasy fare." — Booklist
"Indeed, readers looking for the fantasy element nurtured in the previous books primarily by the twins would do well to reread those novels, since this one concentrates on the interactions of more mundane family members. But those who want to see the story of Jenna continued to what is probably its logical end will find that Yolen spins a mean yarn here."–Publisher's Weekly
"Yolen uses subheadings such as "The Legend," "The Myth," "The Ballad," and so forth, with "The Story" indicating the main narrative. A subheading called "The History" looks at the tale from a twentieth-century perspective-including the inevitable rivalries among schools of thought. This device allows Yolen to provide background information without resorting to pages of expository dialogue, and the different perspectives round out the story in a thought-provoking way. The ballads, written by Yolen and scored by her son, are a particularly nice addition.The story is tightly woven, and the book stands very well on its own although the ending may not appeal to all readers in its summation of the characters' fates. Characterization is very good, the mother-daughter relationship is particularly well portrayed, and Scillia's personal struggles parallel Jenna's need to balance her various roles of mother, queen, and hero. The cover art is attractive and appealing."–Voya
See the review from Rambles – a cultural arts magazine (on the Web).
Available in both hardcover and paperback.