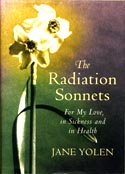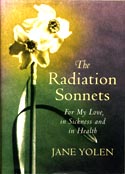 THE RADIATION SONNETS
Algonquin Books 2003
ISBN# 1-56-512402-2 Algonquin hardcover
Published for adults.
In January, 2002, after he endured months of pain, an MRI showed a cancerous tumor in my husband's skull. In March radiation therapy was started. The time from discovery to treatment was an eternity for us. An eternity. With that metaphor I plunged into treatment as poetry. I began a sonnet sequence, one poem each day. It was the only thing in my day I seemed to have any control over. Treatment lasted six weeks: forty-three sonnets. In July, I was interviewed by Susan Stamberg on NPR's "All Things Considered," and read three of the sonnets. Letters and email poured in, everyone wanting a copy of the book for themselves, for friends, for loved ones, for medical students, for hospice centers, for cancer clinics. The problem was, there was no book–as yet. Fortunately, an enterprising editor from the small, prestigious literary house, Algonquin Books, heard the interview, tracked down my agent, begged a reading copy, and the next day–unheard of in publishing–made an offer.
Hear an Oct. 30 interview with Diane Rehm with Jane reading some of the sonnets.
What reviewers have said:
"Nearly every long-term couple will endure the sickness and death of one of the partners, and reading of the fears, sufferings, and ultimate triumphs that love allows cannot help but provide solace and inspiration–and the plainer spoken such writing is, the more it will encourage. … Yolen writes with utmost clarity and precision, uses very ordinary vocabulary, and rhymes and measures with casual, unobtrusive grace. If this isn't capital-L literature, it is probably, at the very least, a common, small-c classic." — Booklist starred review
"Yolen beautifully conveys the distance that comes between an ill person and his or her caretaker when both formerly lived as healthy partners. … Best read as verse-memoir, this short collection is a welcome addition to the many books written about coping with illness and death. — Publishers Weekly
"What an incredible skill Jane Yolen has for capturing the journey of the caregiver!" — Priscilla Savary, Executive Director of the Colorectal Cancer Network
"Most of all, I would like medical people to read this book. It offers a view from "the other side of the river" by a writer who is honest, wise, and skillful". –American College of Physicians newsletter, Tennessee Chapter
"These sonnets are straightforward and engaging. Each one invites the reader to experience through the author's eyes an incident that occurred or observation made on a particular day in the pilgrimage of radiation. In this case the "grace" of the pilgrimage comes from a machine; prayers are answered when this grace overcomes the evil within (cancer), while leaving David Stremple's tortured soul devastated, but quietly hopeful. Pilgrimage is a communal activity. Ms. Yolen invites the reader to join in her journey through poems that reach out and communicate well. Pilgrimage is also a highly structured activity that requires self-effacement–you connect with a pre-existing set of beliefs, rather than striking out on your own. Pilgrims follow the rules. Likewise, Ms. Yolen immerses herself in the sonnet; she honors the traditional form, and tailors her voice to "fit," rather than speaking out in more informal or personal ways. Yet these poems are anything but academic. Their emotional content flows directly and is sometimes transcendent." –Literature, Arts, and Medicine Database
"When the husband of famed storyteller Jane Yolen, David Stemple, was diagnosed with an inoperable but treatable malignant tumor at the base of his skull, Ms. Yolen responded with the power of poetry. She chose the sonnet to wrestle the illness, writing one each day during his life-saving radiation treatment. The Radiation Sonnets: For My Love in Sickness and in Health is Ms. Yolen's gift not only to her husband but also to all families who are struggling with the disease and its emotional toll." –Dr. Fred Bortz, reviewer
"With grace Yolen cared for her husband David throughout the 43-day endurance test of his radiation therapy. In typical fashion, she turned her experience into a story to be shared.
Forty-three sonnets, one for each day of David's radiation treatment. As would be expected, many of the sonnets are heartbreaking. To watch a loved one suffer is a frightening thing, and nothing can prepare us for it. No matter what your life experience has been you cannot know true fear until it is for someone you love. And yet interspersed with the tragic is humor, Yolen's spirit being so insuppressible that she is able even in this time to find amusement. From "Food Wars: The Fifth Front," an ongoing record in which the daily battle to feed her husband is waged in print — the more to diffuse it in life — she writes, "Now for a moment let's consider the tongue,/That seat of language,/That soul of wit,/That place where food now tastes like dung." –Rambles
"Jane Yolen has spent years giving enjoyment to children and parents with the over 200 humorous, touching, and delightful children's books she has written. But "Radiation Sonnets" is different. With this one she offers solace, hope and reassurance to others who have endured the pain of watching a loved one suffer through cancer and treatment. When her husband was diagnosed with an inoperable tumor, she began to write poems, one each night, to help her cope with the feelings, hopes and fears she faced each day. The sonnets reflect the daily happenings as well as her love for her husband and refusal to give up hope. "Radiation Sonnets" is a touching collection that celebrates the beauty of the human spirit." –Kidbookshelf