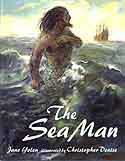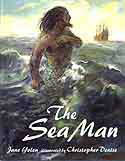 A short historical fantasy chapter book that takes place off the coast of Holland in the seventeenth century. The crew in a boat in the Dutch navy pick up what they think is a drowning man. But when they get him into their boat, they see they have a merman, with a fish tail. The sailors are afraid and want to sell the merman to a fair or to the professors at the university. The young lieutenant and the cabin boy rescue him and eventually manage to throw him back into the water where his wife and child await. Based on a picture book I wrote and first sold to editor Patricia Gauch at Philomel which she eventually (after about five years) decided couldn't be done as a picture book. Then I turned it into a short story that was published in Fantasy and Science Fiction magazine March 1989. Finally, I went back into it, made it into a chapter book and resold it to Pat Gauch and that is how it was published as a book.
See the review from Rambles – a cultural arts magazine (on the Web).
Available in Philomel hardcover.
American Booksellers Association "Pick of the Lists"
---
Order from:
Search for Out of Print Books:
Search for Out of Print Books (U.K.)