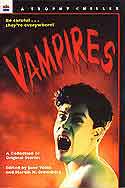 VAMPIRES
with Martin H. Greenberg
HarperCollins 1991
ISBN# 0-06-026800X Harper hardcover
ISBN# 0-06-440485-4 Harper Trophy paperback
Original stories about vampires by a variety of authors, the book includes the first published version of my much reprinted story, "Mama's Gone." I chose all the stories and edited them. Marty did the business end of things.
Accolades:
1969-1992 ALA Best Books for Young Adults
Recording:
"Mama Gone," one of the stories in this collection, is told by Milbre Burch in "Mama Gone and Other Stories to Trouble Your Sleep" KindCrone Publications.
What reviewers have said:
"Any reader with a thirst for blood won't go away hungry." — Booklist starred review
"For those who are ready to be immersed in the world of vampires, this collection is a must. Yolen and Greenberg have compiled 12 original tales from various authors and combined them into a highly readable, entertaining, delightfully creepy, and sometimes funny accumulation. . . . .The depth and breadth of these selections will make Vampires enormously appealing to all types of readers. The arrangement of the stories flows; the selections get better and better. A popular buy for youngsters who keep asking for more "scary stories."-School Library Journal
"Thirteen tales, at least one for every taste (as long as it's blood): mall-rat vampires, pious Jewish vampires, squeamish vampires, and shaman vampires; vampires accepted, rejected, or defeated. Scary stories. . . funny stories–after this, no one could claim that when you've seen one vampire you've seen them all."–Kirkus