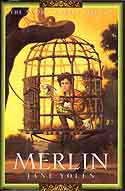 Young Merlin Trilogy: Merlin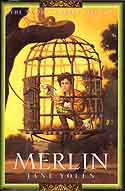 MERLIN
Book 3 Young Merlin Trilogy
Harcourt Brace 1997
ISBN# 0-15-20081-4 Harcourt hardcover
ISBN# 0-590-37119-3 Scholastic paperback
Included in YOUNG MERLIN TRILOGY
The third book of the Young Merlin trilogy (PASSAGER and HOBBY are the others), this tells the story of Merlin as a twelve year old and immediately follows young Merlin's escape in Book 2 from a murdering king. In this part of the adventure, Merlin comes upon a tribe of wild people–wodewoses–who capture him and put him in a cage where he is supposed to tell them the future. In this encampment he meets the child who will one day be King Arthur. I am especially fond of the hardcover covers. I researched the falconry stuff carefully and each of the trilogy titles (Passager, Hobby, Merlin) are terms from falconry. Merlin was on te Dorothy Canfield Fisher Children's Book Award Master List 1998-1999. The trilogy won the 1988 Mythopoeic Fantasy Award for Children's Literature.
The Young Merlin Trilogy:
Accolades:
Trilogy won the 1998 Mythopoeic Award
1998-199 Dorothy Canfield Fisher Children's Book Award Readers List
American Bookseller Pick of the List
Around the Web:
What reviewers have said:
"Yolen's Young Merlin Trilogy concludes with his enchanting novella. . ."–Locus
"… gracefully written, and an easy introduction to Arthurian tales."–Horn Book
"Yolen's gift to the reader is in creating worlds with their own integrity, dialogue that flows in natural rhythms, and characters to care about. That it also enhances one of the most beloved legends of the English-speaking world is just an added plus."–NAPRA Review
"Merlin echoes the tone sand rhythms of Passager and Hobby, brief novels with medieval yet timeless settings, written in stark but poetic language that will challenge some readers."–School Library Journal
"A superb prose stylist, Yolen creates an evocative sketch of her character, which is more an enigmatic glimpse of Merlin than a retelling of any of the traditional tales. Spare and sophisticated, these books will probably appeal to the adult reader as much as (or more than) its intended audience. This trilogy is recommended for any fan of Arthuriana, or, for that matter, any lover of well-written fantasy." — Mythprint
"With this trilogy for middle readers, Jane Yolen is at the height of her literary powers. … There are moments of pure beauty in the text. Young readers will be entertained by this trilogy, but adults will be enchanted. Any fan of the Arthurian legends or fantasy in general would find The Young Merlin Trilogy a welcome addition to their collection." — ReviewZone (Arthur Slade)
"…three relatively short books, but they were quite good and I wanted to share. Yolen is a masterful storyteller, which I already knew, but I love how she integrates Arthurian legend and falconry into these stories. The legends of Merlin are so numerous, and each one tells a different side of the story that it's impossible to know what aspects of the story are true, if such a man named Merlin really did exist. And even if Merlin only exists in our collective memory, I'm so glad that Yolen is adding to the lore."–http://hcgambrell.wordpress.com/2010/03/16/young-merlin/
In print in both hardcover and paperback.
---


Order from:
Search for Out of Print Books: