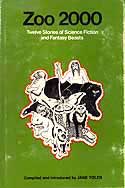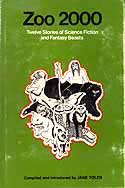 ZOO 2000:
Twelve Stories of Science Fiction and Fantasy Beasts
Seabury Press 1973
ISBN# 0-8164-3103-5 Seabury hardcover
ISBN# 0-333-19968-5 Macmillan paperback
This anthology of twelve stories of science fictional and fantasy beasts, includes two original stories (by Dale Ferguson Cope and Richard Curtis) and ten reprints by such luminaries as Theodore Sturgeon, Arthur C. Clarke, Larry Niven, James Thurber, Andre Norton, and Philip Jose Farmer. I contributed only the introduction.
There was a British edition.