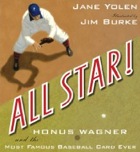 Illustrated by Jim Burke
Philomel 2010
ISBN# 0399246614
The idea for this book began with illustrator Jim Burke. We had done several books together and he was a big fan of Wagner's. I had been a huge Brooklyn Dodgers fan in my youth, and later on a Boston Red Sox fan when we moved to Massachusetts. But around the time of writing ALL STAR (which I'd originally titled SHORTSTOP!) I was not that into baseball at all.
Learning about Honus Wagner charged me up again about the sport, especially the sport as played back long before I was born. It seemed so authentic and done less for any big money and more for the pure joy. And that's what I comes across in the book.
By the way, don't miss the wonderful book trailer done by my son, Adam Stemple. It captures the spirit of the book to a tee.
Accolades:
ALL STAR is an Oppenheimer Gold Award winner
What reviewers have said:
*STARRED REVIEW* "This smartly crafted picture-book biography brings to life the Hall of Famer whose rare baseball card sold for three million dollars at a 2007 auction. Honus Wagner played for more than 20 seasons, most with the Pittsburgh Pirates; today he is recognized as one of the greatest shortstops ever. Born in 1874 to hardworking German immigrants, he lived in a hardscrabble suburb of Pittsburgh, whose skies were darkened by smoke from the city's many steel and iron mills. After sixth grade, Wagner and his brothers followed their father into the coal mines, where "he worked loading two tons of coal a day for 79 cents." Baseball offered a way out of the mines, and Wagner's natural talent and work ethic won acclaim throughout his career. With a storyteller's voice, Yolen's prose depicts the homely, bow-legged athlete: "it was said he could tie his shoes without bending over." Together with Burke's masterfully composed oil paintings, Yolen limns the athlete's strength of character whether in protecting an umpire from an unruly crowd or teaching his beloved daughters to play the game he loved so much. Another delightful oversize illustration finds Wagner awkwardly posed in a photographer's studio, his huge fielder's glove on his knee, as a group of young fans gather outside. Yolen and Burke have created an affectionate tribute to a baseball great and his times."– School Library Journal starred review
"An intriguing look into the life of a very unique player."—KidsBookshelf.com
"Honus Wagner's life is often summed up in the story of his very rare baseball card. Yolen goes beyond this myth and in an entertaining tall-tale tone tells the story of the young Wagner and how he made the transition from working in the mines to joining the first class in the Baseball Hall of Fame. Burke's rich oils, in muted tones and from a variety of perspectives, are filled with details for the baseball fan to pore over. The first illustration shows the young Hans, called Honus, on his father's knee, his signature bowed legs naked while he plays catch with his brothers. The shadows from the window form a home-plate trapezoid on the rug. Readers see Wagner grow into "Old Reliable," the barrel-chested, long-armed speedster who became such an important part of Pittsburgh baseball. Tales of Wagner's speed (he once carried a teammate over home plate) and determination (he batted away cushions and bottles thrown at an umpire by an angry crowd with complete accuracy) make up the bulk of this volume. "–Kirkus
"Great sports biographies are gold in the school library, and this is absolutely one of them."–Pink Me
"Yolen. . . is in particularly fine form with her sharp baseball-specific descriptions ("the dust from a sliding steal curling up into his nose"). Burke's spacious and painterly artwork  . . . nicely evokes a simpler era in this stately tribute to the early diamond hero."–Booklist
"In this true story, Jane Yolen shows us that wit, talent, perseverance, and passion score more than home runs. As Honus would say, 'How about that!' Your child will hardly realize he's learning as he reads All Star!. Jane Yolen masterfully recounts history like a the true storyteller she is and Jim Burke's illustrations add a homey, warm touch. This would be an ideal gift for baseball fans of any age."—Read Along with Biblio
"Written by award-winning children's author Jane Yolen, All Star! is the story of a hatchet-faced boy from a poor mining town who somehow became one of the greatest shortstops in history. Boy's will love this book and will be thrilled to learn that Wagner's baseball card sold for almost three million dollars. It's a heartwarming story that comes to life with beautiful retro illustrations that perfectly capture the era."—Boys Read
"Just in time for the baseball season is All Star! . . . If dad is already trying to play ball with little Johnny or Jane, they will enjoy this one."—Book Views by Alan Caruba
"This remarkable, beautifully illustrated picture book tells the story of this very special baseball player. From his early days working alongside his brothers and father in a Pennsylvania coal mine to the discovery of his special talents that blossomed on the baseball diamond and how the German youth made it to professional baseball, the author covers a lot of ground in this biography. . . Youngsters six years of age and older, plus adults who collect baseball literature, will find this book an enjoyable read. Since he played during the sport's infancy, Wagner hasn't had as much coverage as later stars, which is a shame. Fortunately, this book is a step in the right direction and will make younger readers familiar with this early Hall of Fame selection."—Book Loons
"Funny, touching, and often awe-inspiring, All Star! is a wonderful introduction to one of baseball's greatest legends, as well as a nostalgic look back to a time when baseball truly was one of America's great pastimes."—childrensbooks.suite101.com/
"Yolen's text is rhythmic and riveting. She carries us along the gentle back story of Honus Wagner then builds a wave of words describing his successes. Combined with Burke's oil paintings, we are carried back to days when baseball was played for love of the sport, not multi-million-dollar salaries. In fact, Burke's love of Wagner is evident in the illustrations: the color choices reflecting the time period made me feel like I was looking through a window into Honus Wagner's world. Sometimes the images spilled off the pages, reminding us that this man was larger-than-life in the baseball world of his day…This wonderfully written and incredibly illustrated book belongs on every baseball pathfinder and in every boys-of-summer display."—Kids Reads
"Jim Burke's exciting, colorful two-page illustrations of Wagner's bigger than life actions add to the richness of this inspiring biography."–Topeka Capital-Journal