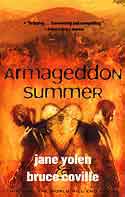 ARMAGEDDON SUMMER
Written with Bruce Coville
Harcourt Brace 1998
ISBN# 0-15-201767-4 Harcourt hardcover
ISBN# 0-15-202268-6 Harcourt paperback
Years ago I read about some millenialist group or another declaring that the world was going to end on a certain date and at a specific time. These news stories pop up every year, and not just when we are heading downhill precipitously toward a millennium. I began noodling–that's a writer's technical term for thinking about a subject as a possible book project. I asked myself: What if a teenage girl is dragged to a mountain top by her family under the influence of a religious millenialist cult and there meets a teenage boy also brought up the mountain kicking and screaming. Would there be a summer camp romance? Would they be Romeo and Juliet, dying at the end? Or would the whole cult go down, like the Titanic? I even talked to a couple of editors at editorial lunches, when I ran lists of ideas past them. But I was not ready to attempt such a big and difficult story. The years ground on–and the millennium crept closer. I remembered my novel idea every time a new crazy cult–led by a Jim Jones or a David Koresh–hit the news. Then one day I called my best friend Bruce Coville. And I said, "How would you like to write a book together?" If you want to know more about our process, how two brains could invent one book, check out the article in BookLinks, "On Collaborating with Bruce Coville on a young adult novel," (Points of View) 11/98, p. 54.
The book was an ALA Best Book for Young Adults, an ALA Quick Pick for Reluctant Young Adult Readers, a Book Links Best Book of the Year, and a School Library Journal Best Book for Young Adults. It is also on a number of lists: one of fifteen nominees for the Oklahoma Library Association's Sequoyah Book Young Adult Award, winner of the 2001 California Young Reader Medal, Young Adult Category, named one of the "Books in the Middle: Outstanding Titles of 1999" by VOYA (Voice of Youth Advocates) magazine, selected for the Pacific Northwest Library Assn. 2001 Young Readers' Choice Award list, selected (in Young Adult category) to be on the list for the South Carolina Books Awards for 2000-2001, nominee for the Division 2 Maud Hart Lovelace Book Award, on the Washington State Evergreen Young Adult Book Award list, one of the twelve nominees for the Children's Literature Association of Utah's Utah Young Adults' Book Award for 2000 – 2001, on the Maine Student Bok Award list, 2000-2001 Iowa Children's Choices Awards list, one of eight books on the Michigan Reading Association list, one of ten titles on the 2001-2202 Nebraska Golden Sower Young Adult Award list, and one of the twenty books on the 2000/2001 Lone Star Reading List of the Texas Library Association's Lone Star Reading Program. It was one of YALSA Teens Top Ten Best books 1999,one of Locus Magazine's Best Young Adult books for 1998, and on Amazon's Top Ten YA books for 1998. There is a German translation published in both hardcover and paperback.
Recording:
Armageddon Summer, narrated by Kate Forbes and Johnny Heller, Recorded Books, Inc. ISBN 0-7887-2972-1 Web: www.recordedbooks.com.
What reviewers have said:
"Rich, thought-provoking theme with the perfect balance of gripping adventure and understated pathos, leavened by a dollop of humor."–Booklist starred review
"… the book establishes a convincing and compelling scenario. The two protagonists are well developed. They find one another, fall in love in a delicate and convincing way, and ultimately survive."–School Library Journal starred review
"Readers … will find much to contemplate in this realistic and sympathetic portrayal of the evolution of a cult incident."–VOYA
"Providing action, romance, and a provocative message, this novel could well get teens talking."–Publisher's Weekly
"Jed and Marina have epiphanies great and small, and they emerge still whole, still searching for belief in its myriad aspects, and for each other … [A] page-turner …The authors pull off the remarkable feat of making the sacred tangible, of delineating what it means to believe."–Kirkus
"The alternating narratives are effective, thoughtful, and frank. . .Co-authors Yolen and Coville move us to contemplate the nature of faith and family relationships, as well as the resilience and resourcefullness of youths who must function when the well-intentioned adults in their lives falter."–The New Advocate
"There are no easy answers in this novel, and there are no simple characterizations, both writers are skilled enough to paint a full picture even through the narrow experience and tangled affections of their narrators."–F&SF Magazine
"A perfectly engrossing look at religious fundamentalism, the end of the world, and burgeoning love, told in alternating chapters–Valerie and I agree it is one of our fave novels of the year."–Walter M. Mayes
"However much one may want to shelter children from such dismal concepts as millennial collapse, it seems we can't shield them any more. And so it is best that this delicate subject be addressed by the finest of children's writers—and they don't come any better than Yolen and Coville. … It's effective, touching, funny, and real, an experience that young readers will be able to relate to—and learn from. "–NAPRA
See a GirlZone review.
Available in both hardcover and paperback.
---
Order from:
Search for Out of Print Books: