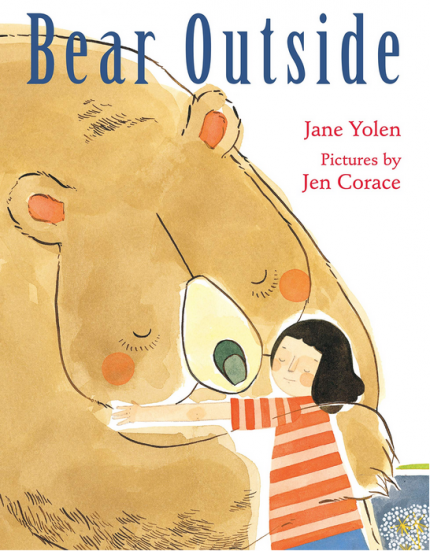 Neal Porter Books (March 2, 2021)
Illustrated by Jen Corace
ISBN-10: 0823446131
ISBN-13: 978- 0823446131

Bear Outside turned out to be my first ever book with the famed editor Neal Porter and my (accidentally) 400th book. It has an interesting backstory.
About five years before I wrote and sold A BEAR OUTSIDE, I had been helping one of my editors find an illustrator for a different bear book of mine (quick how many bear books do you think I have published?). That book was very different, and wildly funny, but I found Corace's website during my bear scans, loved her work, and she had this bizarre drawing of a little girl staring out of a bear's mouth. There's a story there I thought (as I often do) but got no more than that. Sent the website to the editor who knew (as I already knew) that Jen was not going to be his choice for a A BEAR SAT ON MY PORCH TODAY. But five years or so later, still remembering that picture, I wrote the story. Neal snapped it up and loved the backstory so much, he contacted Jen and got her on the project before he told either me or  my agent that he was doing the book. She got to it relatively quickly and it became a  published book in time to snag the 400th! slot. Ah, fame. Ah, obsession! Ah, coincidence. Ah, Bears!!
Accolades:
What reviewers have said:
"Yolen has said a picture by Corace, of a little girl looking out confidently from the mouth of a bear, inspired her to write this book. It's easy to understand why. Innovative in its perspective and moving in its execution (gouache that, like our emotions, sometimes bleeds outside the lines), Corace's art perfectly matches Yolen's words in this nuanced exploration of our inner selves." —New York Times
"…captures the essence of inner strength in this sensitive portrayal of a girl and the bear who accompanies her….a sophisticated depiction of a child's relationship with her inner strength." —Publishers Weekly
"An ode to kids who march to their own bear, and a guide for the imaginative ones in touch with their needs and boundaries. It's wonderful." —Only Picture Books
"This low-key story encourages viewers to find inner resources for dealing with ordinary challenges, and could help provide children with a structure for contemplating their own armor." —School Library Journal
"Yolen's quiet text, seasoned with occasional rhyme, suits this tale of resilience. She gently celebrates how children build their own competencies by adopting imaginary friends and imbuing stuffed toys with their own increasing social-emotional fitness."—Kirkus Reviews
"Yolen's gracefully worded, sometimes rhyming text presents a sensible girl whose gentle, ursine protector helps her overcome shyness and act more bravely than she would on her own. In Corace's precisely drawn and beautifully painted gouache, ink, and graphite artwork, the child is almost always depicted within the gentle bear's much larger, semi-transparent form. A creative interpretation of the imaginary friend theme, this original picture book respects both its characters and its audience."— Carolyn Phelan, BOOKLIST
Buy BEAR OUTSIDE from: