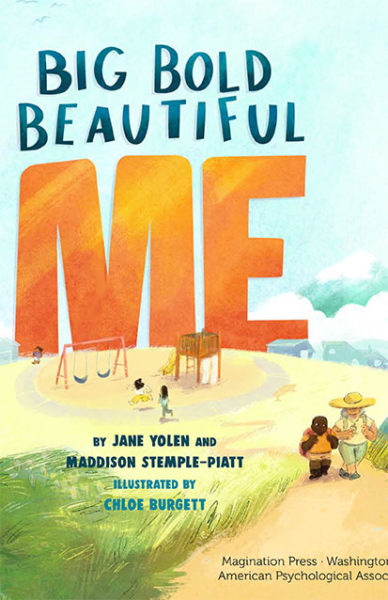 Magination Press (September 6, 2022)
with Maddison Stemple-Piatt
Illustrated by Chloe Burgett
ISBN-10: 1433838648
ISBN-13: 978-1433838644
My first-born granddaughter Maddison and I had written a book called "When Nana Dances With Me" when she was ten and was a young ballerina in Amherst Mass. As I had been at Balanchine's School of American ballet in NYC years and years ago. And we loved to dance together in my kitchen.  The book was not sold until Maddison was in law school! But as she said on the speakerphone when we heard about the sale to our agent and my daughter (her mom) and me, "But I am not a writer, you know. I am going to be a lawyer." We all had a good laugh at that.
However, the next morning she had sent me a rough draft of BIG BOLD, BEAUTIFUL ME. I put it all into rhyme , she critiqued my changes (she had done a study and a movie of dancers and their body image problems for a college project) and she changed some of the rhymes (for the good!). We sent it to the same wonderful publisher—Magination Press, which is part of the American Psychological Association,) who had brought out "Nana Dances." They took it at once.
What reviewers have said:
"Body positivity shines through a jaunty rhyming text…Individual examples are then followed by the hearty refrain "When I look in the mirror,/ what do I see?// Big and bold and beautiful me!" Burgett's images effectively use mirrors to depict the kids' attitude shifts as they share their stories—from initial peering to celebrating their own reflection. As the expressive children, one by one, gather to play at a nearby park, readers may well be feeling the cheerful undercurrent of affirmation and support. Ages 4–8." —

Publishers Weekly

"An upbeat, uncomplicated ode to bodies that are big, thick, broad, and boundless." —

Kirkus Reviews
Get BIG BOLD BEAUTIFUL ME from: