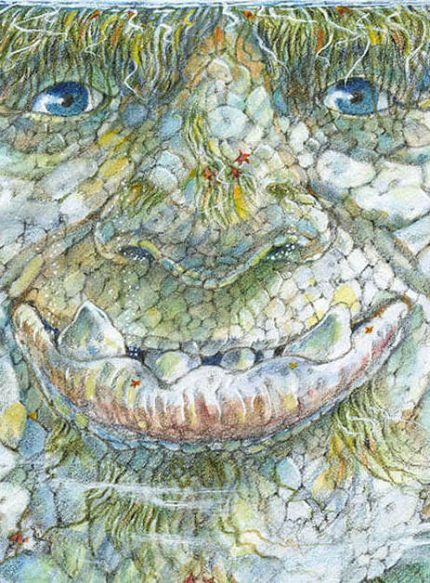 Flashlight Press (August 1, 2022)
Illustrated by Doug Keith
ISBN-10: 1947277189
ISBN-13: 978-1947277182
All books have a back story and this is a fun one. An editor I did not know (who has become a dear friend) asked me for her publisher (of a company I did not know then) if I could help edit/rewrite a picture book. They had gorgeous illustrations that told the story, but the illustrator's writing skills were not up to his artwork.  That sort of thing is always a stretch.And can be a spiderweb of good intentions that ends up killing everyone involved.
But I love stretching! And I am not afraid of spiders or their webs. (I am a snake-a-phobe). And away I went, careful to keep the story I was telling matching the art—a story about  two children and their grandfather plus their dog who discover how the island they are visiting got its name. And making sure the lyrical telling matched the lyrical art as well. After a lot of back and forthing, we all got a book we are proud of. I managed to catch the spirit of Doug's pictures, the editor was satisfied, the publisher got a book he loves….and onward. Now it is up to the readers to make it their own.
Around the Web:
What reviewers have said:
"Award-winning author Yolen… sings old songs in new ways." —

Publishers Weekly

"The wonder of childhood comes alive…literally….. Childhood magic shared with a new generation." —

Kirkus Reviews

"Jane Yolen, who sees stories everywhere, takes a giant leap here. Through her text and through comic and scintillating illustrations by Doug Keith, we learn that though no man may be an island, an island might be—well, a giant adventure, at least."—Gregory Maguire, author of

Wicked

"Lovingly rendered in whimsical illustrations that bring this fairy tale to life."–Danielle Ballantyne, Foreword Review
"A beautifully imaginative tale of discovery and magic and family history on an island that really lives up to its name."–Delia Sherman, anthologist and fantasy writer
"Keep your eyes wide open. There may be more than one giant in this magical place with giants who keep giant secrets."–David L. Harrison, author of

The Book of Giant Stories

"This delightful book, with its slow and delicious reveal of the life of a magical island, will enchant those children who know (much better than we adults do!) how truly alive the world can be!" —Bruce Coville, Author of +100 titles
"Gigantic adventures await on

Giant Island

! Jane Yolen's inquisitive text brightens Doug Keith's well observed watercolors. I can't wait to visit again!"–Tony DiTerlizzi, 

The Spiderwick Chronicles