Commander Toad and the Space Pirates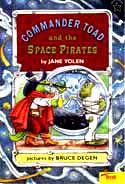 COMMANDER TOAD AND THE SPACE PIRATES
Illustrated by Bruce Degen
Coward McCann 1987
ISBN# 0-698-30749-6 Coward hardcover
ISBN# 0-698-20633-9 Coward paperback
ISBN# 0-698-11419-1 PaperStar paperback
I began the COMMANDER TOAD books because I saw an article in the local newspaper about a boy and his frog who had just won a jumping-frog contest. The frog's name was "Star Warts." I thought it would be funnier if the frog had been a toad, since the old superstition is that toads gives you warts. (It isn't true, of course.) So I invented frog and toads in space on a ship called "Star Warts." Every book is riddled with puns. (I love puns!) There are seven Commander Toad books altogether, though I have been thinking about possibly writing an eighth. A half-hour television show was made with puppets about Commander Toad but it wasn't very successful. For some reason, several of the characters were changed–Jake into a human boy and Doc Pepper into a turtle–and the ship's name was changed as well to "Stella." Also all the puns were missing.
All the Commander Toad books were on Reading Rainbow.

What reviewers have said:
"Any fan of Star Wars, Star Trek, or other books in this series will enjoy Yolen's snappy space adventure. … will keep new readers, especially boys, going."–Booklist.