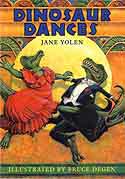 DINOSAUR DANCES
Illustrated by Bruce Degen
Putnams 1990
ISBN# 0-399-21629-4 Putnams hardcover
ISBN# 0-399-21629-4 Putnams paperback
When they were little, my boys both loved dinosaurs so much, I embroidered dinosaur pillows for them. (I am NOT good at needlework.) When they were teenagers, I wrote this book. Go figure! The poems range from a dinosaur rock-and-roll band to a dinosaur waltz to a dinosaur square dance. Degan's illustrations are rollicking. The book was a Junior Library Guild selection and every single poem has been set to music by one musician or another, my favorites being those Lui Collins did on a recent album.
Recordings:
"Ms A Hulas" and "Two Pterodactyls" from DINOSAUR DANCES in Lui Collins "North of Mars"
"Ms. A Hulas", "Dinosaur Waltz", "Square Dance", "And After"from DINOSAUR DANCES, music by Sherry Krebs for her tape "Woodside Dances and Dreams".