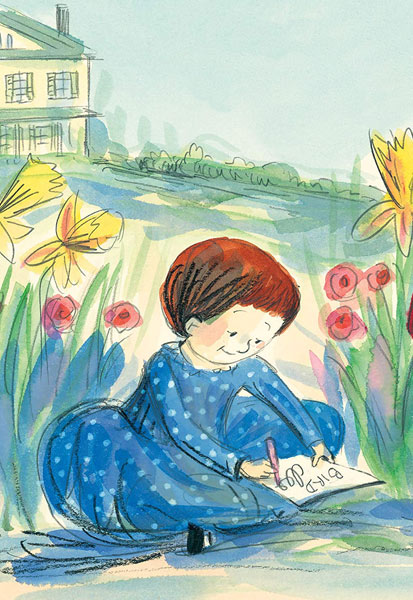 Illustrated by Christine Davenier
Henry Holt and Co. (BYR) (February 4, 2020)
ISBN-10: 1250128080
ISBN-13: 978-1250128089
It is no secret that I am a huge Emily Dickinson fan. I already published THE EMILY SONNETS  (Creative Editions), MY UNCLE EMILY (Philome Booksl) and loads of poetry about her and a short story which won the Nebula for short stories,  "Sister Emily's Lightship". (Tor). However, This is the first time my plot revolved around Emily as a child. There is hardly any information about her as a young child, I had room to make my story lyrical, but using facts from her adult life, but bringing it down to the 4 year old child level. I adored working on this.
Accolades:
What reviewers have said:
*STARRED REVIEW* "…winningly portrays a young writer who appreciates approbation but takes genuine, confident delight in her own accomplishment." — The Bulletin for the Center for Children's Books
"Yolen's love of language and her knowledge of the poet's life and work as well as her understanding of young children. . . An imaginative portrayal of the poet as a young child."―Booklist
"The imagined events of one day in the early life of Emily Dickinson foreshadow her future creations. The text moves along smoothly with plenty of appealing turns of phrase and engaging images. A warm portrait that even those unfamiliar with the iconic poet will likely enjoy."―Kirkus Reviews
"Yolen and Davenier portray Dickinson as a small child . . . Yolen conjures appealing possibilities. Davenier's loose-lined, color-washed ink illustrations capture childlike joy and curiosity."―Publishers weekly
"Yolen's cleverly constructed scheme will intrigue adult Dickinson fans. Davenier's multimedia sketches provide simple, deft views of characters and settings. Some parents might share this with children learning to read and write. It could also spark good discussion with older students studying Dickinson in poetry units." ― School Library Journal
"EMILY WRITES will enchant and stimulate young imaginations…will undoubtedly inspire some of today's young lovers of words to try cultivating their own poetic seedlings." — Richie's Picks
But EMILY WRITES from: