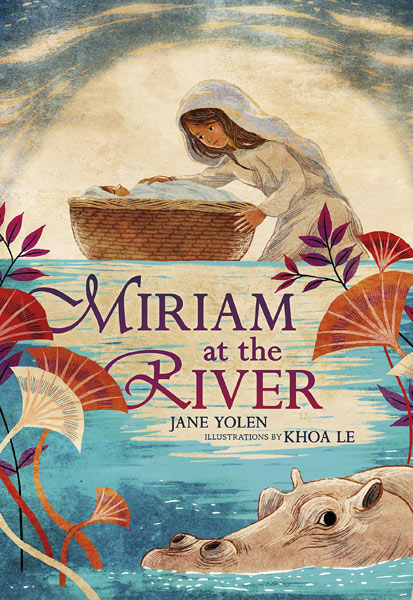 Illustrated by Khoa Lee
Kar-Ben Publishing (February 4, 2020)
ISBN-10: 1541544005
ISBN-13: 978-1541544000
MIRIAM AT THE RIVER is based on the Biblical story of Moses' sister, a seer in her own right, who saved her baby brother by putting him in a woven basket and sending it into the Nile River, where she watches over it until it is pulled out by the pharaoh's daughter who raises him as a prince of Egypt.
Ah–those of you who know my work well will say, "Didn't you already write a book about her?" Yes, and no. It was a movie tie-in with the Spielberg animated movie "Prince of Egypt" but the focus there was on Moses, as was the movie. This book is absolutely about Miriam, a gifted seeress herself. The story is lyrical and elevated because–well, one has to match the lyricism of the Bible, yes? It is the story of a child's heroism. Much back matter of course. The Jewish publisher, Kar Ben, chose a wonderful illustrator whose work I hadn't known before who's paintings flow like the Nile itself.
Also available through membership in PJ Library.
Around the web:
Accolades:
What reviewers have said:
"Luxuriant visuals and rhythmic, emotionally intense language. "―Publishers Weekly
"This biblical tale is filled with wonder, hope, and beauty."―Kirkus Reviews
"This engaging retelling of the early life of Miriam and Moses will be of particular interest to those familiar with the biblical story, while other readers will appreciate the courage of the young heroine."—School Library Journal
"From the very first sentence, "I creep to the riverside in the soft dark of night's end" readers know they are in for a special treat. And we are not disappointed. Khoa Le fills each page with graceful illustrations that compliment the flowing text. The story weaves through so seamlessly, that the reader floats down the river with baby Moses, taking in the words that follow the small ark on its journey. Miriam at the River will be a treasured book during Passover and all throughout the year." —San Diego Jewish World
"This exquisite retelling of the poignant beginnings of Moses' life is welcome particularly because it emphasizes the courage and selflessness of the female characters of the biblical story." — Jewish Journal
"Yolen, a master storyteller, will enchant a new generation of young readers with this imaginative, lyrical retelling of the biblical story of Miriam, the older sister of Moses." — Jewish Telegraphic Agency
"…a beautifully told, exquisitely illustrated midrash…well researched and beautifully laid out in story and picture." — The Sydney Taylor Shmooze
Buy MIRIAM AT THE RIVER from: