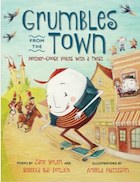 with Rebecca Kai Dotlich
Illustrated by Angela Matteson
WordSong (September 13, 2016)
ISBN-10: 1590789229
ISBN-13: 978-1590789223
A collection of poems based this time on nursery rhymes, in which poet Rebecca Kai Dotlich and I write poems from differing viewpoints than the originals. This follows the well received GRUMBLES FROM THE FOREST collection which did the same for fairy tales.
Rebecca and I chose the nursery rhymes, critiqued one another's poems, and had a wonderful time working on this. The final poem is Three Blind Mice which we wrote together, from the pov of all three mice!
Accolades:
Included in the 2017 Kansas NEA Reading Circle Catalog
Around the web:
What reviewers have said:
"The imaginative poems can tickle the funny bone: Yolen creates a Humpty Dumpty who excels as the class clown and is accident-prone, while Dotlich makes the entire Dumpty family out to be a bunch of "mischievous eggs" who are often in a scrape because they are "always in places/they shouldn't be." Many of Matteson's illustrations are spreads that use soft pastel colors and full-faced cartoon characters. VERDICT While the artwork in the first anthology was more evocative, the images here are effective but on the cute side. Still, an excellent choice for writing workshops and classroom prompts."–School Libary Journal
"This quirky Mother Goose book turns convention on its head. Each of the 14 selections contemporizes a traditional rhyme and pairs it with a rebuttal or an aside by a grumpy protagonist… inventive." —Kirkus Reviews
"Taking the traditional Mother Goose rhymes, Yolen and Dotlich have written two accompanying verses from a different point of view. For example, the story of Jack and Jill is presented from the point of view of the hill, and another from that of the pail. Each poem is short enough to keep children engaged. The acrylic and colored pencil illustrations are humorous and will appeal to the very young. The original nursery rhymes are included in the back. A useful reference is the additional material about the original rhymes, such as how Humpty Dumpty may be based on a 1648 English cannon which sat upon a church and was later blown up in England's Civil War. This title would be a great supplement to instruction in poetry or point of view for older children. Students would be encouraged to create their own twisted versions of Mother Goose rhymes. For the younger child sharing the original alongside the twisted version will elicit discussion. Recommended" –School Library Connection
"Creative… broad-ranging… spins on Mother Goose nursery rhymes… Whimsical, cartoonish acrylic-and-pencil illustrations incorporate playful details and decorative page embellishments, blending classic scenarios and contemporary settings and elements. A playful addition to any poetry section." —Booklist
"

The writing is fresh and very clever and funny. Readers, both kids and parents who know the original rhymes, will be amazed and amused by these new renditions. But the icing on the cake is the illustrations by Angela Matteson. Her charming, colorful illustrations are chock full of fun details that play off the poems. In addition, the original poems are printed in the back as well as historical information about the originals. This is a winner.

"—Manhattan Book Review

"

It's been promoted as a writing prompt book, but I'd argue that the poetry in this collection stands on its own two feet as well.  Yolen and Dotlich take classic nursery rhymes and twist them.  We've all seen that kind of thing before, but I like

how

they've twisted them.  A passing familiarity with the original poetry a good idea, though they've covered their bases and included that information in the back of the book as well.  Good original fun all around.

"–Betsy Bird, SLJ