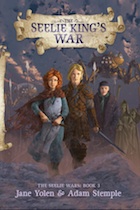 The Seelie Wars: Book Three
With Adam Stemple
Viking Books for Young Readers (November 8, 2016)
ISBN-10: 0670014362
ISBN-13: 978-0670014361
The Seelie Wars Trilogy:
Ah, The Seelie King's War, where son Adam (my co-writer) and I untangled the history of the Seelie Court's mysteries and the lineage of the Unseelie kings. The final book in the trilogy, where we begin with the unknowable, meet a fascinating new cast of characters, kill off quite a few beloved folk in a terrible war, and solve the biggest mystery of the The Seelie Wars trilogy.
We had enormous fun doing it, and the one sad part was that our wonderful editor of the trilogy lost her job before the book was published. That's what happens when a big publishing company (Random House) devours a slightly smaller one (Viking Penguin) and your publisher–V/P–is caught in the cross fire. But the editor, the amazing Sharyn, has remained one of our trilogy's biggest cheerleaders and we thank her for that.
Around the web:
What reviewers have said:
"…brings the trilogy to an eminently satisfying close…A series closer that delivers a skillful balance of action, magic, and mental conundrums."—Kirkus