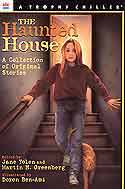 THE HAUNTED HOUSE:A Collection of Original Stories
with Martin H. Greenberg
Illustrated by Doran Ben-Ami
HarperCollins 1995
ISBN# 0-06-024467-4 Harper hardcover
ISBN# 0-06-440646-6 Harper Trophy paperback
Seven original stories that all purportedly take place in one house, though at a variety of times. Bruce Coville, Anna Grossnickle Hines, Gary Hines, Mary Whittington, Janet Gill, and Barbara Diamond Goldin all wrote stories. Every one of us had a connection with the Centrum Writers' Conference–Bruce and I taught there, and the others had all been students of mine there at one time or another. My story is "Nightwolves" which is based on my childhood conviction that there were wolves under my bed at night. I chose all the stories and edited them. Marty did the business end of things.
What reviewers have said:
"The stories are all wonderful-eerie and unsettling enough to be satisfying, but lightened with humor. A great collection for young horror fans."-Booklist
"The length and content of the stories, as well as the popular subject,
make them good choices for reading aloud."-Horn Book
Available in both hardcover and paperback.
---
Order from:
Search for Out of Print Books: