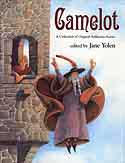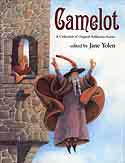 CAMELOTIllustrated by
Winslow Pels
Philomel 1995
ISBN# 0-399-22540-4 Philomel hardcover
Original stories about the King Arthur and his adventures, told by different writers, including two (Anne McCaffrey and Nancy Springer) who turned their short stories into major young adult novels. Adam and I wrote a song for the book, "Amesbury Song," and I wrote the introduction.
What reviewers have said:
"Ten new stories by modern fantasy writers based on the Camelot theme display real changes to plot and outcomes and will delight any with a strong prior familiarity with the more traditional Arthurian legends. Enjoy a compelling and diverse selection which will prove hard to put down." — Midwest Book Review
"Ten stories and one song make up this collection, which is illustrated with lush color plates in an old-fashioned style. The selections have been arranged chronologically, beginning with Arthur's childhood, with each built on a quotation from Arthurian literature. The varied source material contributes to a pleasantly diverse selection of characters, events, and depictions." — From Booklist
"All myths, folklore, and legends provide matter for retelling, but it is astonishing how fertile a field the King Arthur story is. The tales collected in this book touch on many aspects of the Arthurian legend – the sword in the stone, Merlin's life, and Queen Guinevere, among others…A treat for King Arthur fans." — Horn Book
". . .this collection (is) entertaining for both kids and adults."–USA Today
"Yolen has brought together some of the best children's and YA writers for ten original stories based on Arthurian legends. . . .a provocative mix.–School Library Journal
Available in hardcover.
---
Order from:
Search for Out of Print Books: