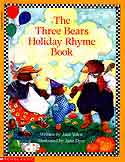 Three Bears Holiday Rhyme Book, The
THE THREE BEARS HOLIDAY RHYME BOOK
Illustrated by Jane Dyer
Harcourt 1995
ISBN# 0-15-200932-9 Harcourt hardcover
ISBN# 0-590-94187–9 Scholastic paperback
ISBN# 0-15-200395-9 Harcourt poster collection
This book of rhymes is a follow-up to "Three Bears Rhyme Book" and "Baby Bear's Bedtime Book" and covers 16 holidays (though Christmas and Chanukah are in one poem.) They include New Year's, Groundhog Day, Valentine's, St. Patrick's, Earth Day, Arbor Day, May Day, Mother's Day, Father's Day, Independence Day, Labor Day, Halloween, Thanksgiving, Christmas & Chanukah, and Happy Birthday. Jane's pictures are astonishingly wonderful. Harcourt did a selection (eight) of the double page spreads in a poster collection. The Scholastic edition is only available through the book club.
ABC Children's Book Sellers Choices Awards, under Collection 1996
What reviewers have said:
"A host of holiday poems. . .to warm the heart and tickle the fancy."—"The Scoop" Spring 1995
"Yolen's short, bouncy verses came be humorous, endearing. . .consistently engaging are Jane Dyer's buoyant watercoors which include lavish full-page pictures and inventive background patterns anmd borders to frame text.. . "—Publisher's Weekly
"Readers will enjoy the rich images filled with plenty of detail to carry the eye from corner to corner and back, with a bit of humor or small surprise tucked inside. Inventive use of white space results in pages that are full but never cluttered … The poetry highlights simple pleasures, happy imagery, and loving relationships. A fine addition that youngsters will come back to again and again"—School Library Journal
"A charming book of poetry featuring the Three Bears (and Goldilocks, of course), this celebrates 15 holidays throughout the year. … Used in conjunction with science units–for example, Earth Day in a unit on the environment–they can provide an entertaining, easy way to integrate literature across the curriculum. Dyer's watercolor illustrations are cheerful and bright"—BookList
Hardcover still in print.
---
Order from:
Search for Out of Print Books: