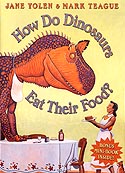 How Do Dinosaurs Eat Their Food?
HOW DO DINOSAURS EAT THEIR FOOD?
Illustrated by Mark Teague
Scholastic 2004
ISBN # 0-439-24102-2 Scholastic
This is the third of the big books about those dinos. It's about table manners–the good, the bad, and the ugly ("Does he flip his spaghetti high into the air?") The Scholastic's marketing staff, as well as my indefatigable editor, Bonnie Verberg, believe this will be as big as the first book, because as Bonnie says: "Every kid has food issues."
There was some minor league backing-and-forthing with illustrator Mark Teague who felt (quite rightly) that a couple of the spreads were not giving him enough movement. So I rewrote them and he was delighted. But he and I are in a good rhythm on these books now and so we both know what we can and cannot do.
I told the Merry Makers (the plush toy folk) that there was a wonderful dino with a bib on the cover that might make a great companion toy to the first plush they did. Bonnie shot over to them with a copy of the book. Fingers crossed.
For completists: for the first printing, Scholastic produced books with a bonus mini-book attached to the inside of the back cover. The mini-book is the complete MEALS book, about 5 1/2x 6 1/2 inches.
Accolades:
Oppenheim Toy Portfolio 2006 Gold Award
What reviewers have said:
"Dynamic dinosaur duo Yolen and Teague team up again, this time tackling the touchy topic of table manners. Their signature rhyming text and hilarious illustrations introduce an ensemble of wacky giant reptiles…A humorous and highly palatable read-aloud primer on table etiquette for the preschool dining set."–Kirkus
"These collaborators' latest guide to dino etiquette offers a jaunty comedy of errors, er, table manners."–PW
"After a brief foray into board books, the founders of the How Do Dinosaurs…dynasty return to the picture-book format of How Do Dinosaurs Say Good-Night? and How Do Dinosaurs Get Well Soon? with an entry on another familiar parent—child minefield—mealtime. These terrible lizards have correspondingly terrible table manners; they burp, hurl spaghetti, and gleefully shove green beans up a giant reptilian nostril. Subsequent scenes of dinos "sit[ting] quite still" and beaming with "smiles and goodwill" offer examples of correct behavior; but even the mealtime "don'ts" offer useful information in hand-painted labels identifying each kaleidoscopically patterned creature. Don't miss queztalcoatus screeching at a restaurant waitress, or upersaurus inspecting his nutritious supper (Teague emphasizes the enormity of the latter beast through clever use of both on- and off-page space). Once again kids will chortle over Teague's clever images of adults dwarfed by toothy miscreants, and both parents and children will recognize the hilarious parallels with occasionally naughty human kids who loom dinosaur-large within their respective households."—Booklist
"The book is great fun, and sure to be popular with dinosaur lovers. Hidden in the illustration on each page is the proper name of the reptile portrayed therein. Teague's gouache-and-ink illustrations contain just the right amount of detail and whimsy, and they are large enough for storytime sharing. Children not yet old enough to read will still enjoy looking at the pictures by themselves."—School Library Journal
"Believe it or not, there is a subtext here, and it involves basic table manners, something every youngster must learn at some point, the earlier the better…Jane Yolen's reptilian behemoths — supersaurus, spinosaurus, amargasarus, the whole lot — are presented in living, playful glory, and carry the day in this latest addition to a popular series."—Pittsburgh Tribune-Review
"A roaringly funny look at table manners, both good and bad, that will have children laughing out loud! The delightful text and amazing illustrations make this yet another wonderful dinosaur book."—Kidsbookshelf
"Young dinosaur fans will eat this up and, taking a cue from the polite Spinosaurus, ask for more."—Horn Book
"Jane Yolen and Mark Teague offer us a fifth "How Do Dinosaurs…?" title that is fresh and fun for both parents and children…Yolen's effortless text is once again perfectly matched with Teague's vivid illustrations of dinosaurs at meal time, first behaving badly and then with grace and charm. The formula has been proven effective in the previous titles but is far from trite or redundant even the fifth time around thanks to the talents of author and illustrator…Highest recommendation."—SurLaLune Fairy Tale site
"Jane Yolen adds to her dinosaur collection with "How Do Dinosaurs Eat Their Food?" Illustrator Mark Teague captures the dinosaurs showing the do's and don'ts of table manners. Children will easily identify with the quetzalcoatls who can't sit still and the messy amargasaurus. And let's hope no one really sticks beans up their nose like the gorgosaurus."—Detroit Free Press
---