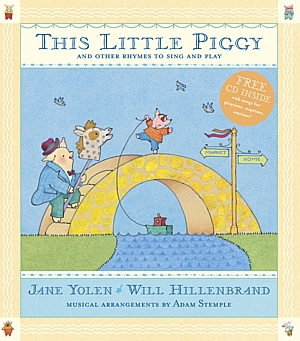 I had done a picture book years ago for Harcourt–long out of print–called THE LAPTIME SONG AND PLAY BOOK and knew there were many many more lap games then the ones I'd used for that 32 page picture book. (One song or play game per double page makes for a fairly limited selection.) So when Liz Bicknell, editor-in-chief at Candlewick–who'd been my editor at Harcourt for a while–asked if I would do a much-expanded version, I was thrilled. After all, the book touches most of my great loves–folklore, music, rhymes, history.
I wanted to call the new book TROT TROT TO BOSTON, after my own children's (and grandchildren's) favorite lap game. At first Candlewick, which is situated in Boston, was fine with that. But the book was being published simultaneously in England (by Walker UK) where Boston is not instantly recognizable, if at all. Also, the amazingly wonderful illustrator Will Hillenbrand had peopled the pages with pigs (say that ten times fast!) so we decided to call it THIS LITTLE PIGGY.
As in the original book, my son Adam did the musical arrangements. And everyone (we hope) will live happily ever after. Especially since before the book was published, it already had two starred reviews–in Booklist and in School Library Journal. Huzzah!
Accolades:
Parents Choice 2006 Recommended Award winner
Miscellany
There is a CD in the back of the songs but not, alas, by Adam.
What reviewers have said:
"A beautifully crafted, oversized anthology of approximately 60 lap rhymes, songs, clapping rhymes, and finger and foot rhymes, all presented with explanations and simple instructions for parents to play with their babies and toddlers. Most are familiar, but there are also a few that are less well known. Hillenbrand has framed the rhymes with lovely mixed-media pictures in an array of sherbet pastel colors with happy piggy families acting out the rhymes. The songs include simple musical arrangements for guitar and piano. A delightful accompanying CD includes 13 songs from the text, beautifully done with vivacious accompaniment. The result is a perfect book for one-on-one sharing-a feast for the eyes and the ears-as well as a wonderful compendium of first rhymes for the very young. A special selection that all new parents and grandparents will want to read again and again."—School Library Journal
*STARRED REVIEW* "Collections of children's rhymes and songs, lap games and finger plays, are in no short supply…but this assured presentation by Yolen, who charmingly notes that "the lap is a kind of schoolroom," is likely to emerge as the most authoritative…Annotations about each poem's provenance and instructions to parents appear in smaller type, while the poems themselves, arrayed with Hillenbrand's zestful, pig-themed illustrations, squarely target children…Given the collection's broad scope, families will inevitably emerge with new playtime standbys, and its many aesthetic rewards offer ample motivation to keep turning the pages. An accompanying CD provides jaunty interpretations of Stemple's piano-and-guitar arrangements for the songs."—Booklist Starred review.
"The luxuriously oversize volume includes dozens of nursery rhymes and songs, from "There Was an Old Woman" to "Miss Mary Mack," and a CD models for youngsters how to sing along."—Publisher's Weekly
"Yet again Yolen proves her genius at whatever she decides to tackle. Having chosen many old favorites, she also includes many unusual and less well-known ditties to share with little people. Her personal introduction reminds us, "The lap is a kind of schoolroom. What a child learns there is learned forever." The sections are labeled: "Upsie, Downsie," "Bumpety, Bumpety," "Wiggle, Wiggle," "Clap, Clap, Clap," and "Take a Bow." Each selection is introduced by a short bit of history gleaned by the author in her extensive research for this title. It is extremely interesting to learn that "Goosey, Goosey, Gander" was originally "Old Father Long-Legs" and was "actually a political rhyme about Cardinal Beaton, a man assassinated in 1564 because of a dispute over prayer books." The other aspect of this book that makes it a must have for all who interact with babies is the instructions for the actions that accompany each of the poems and songs…Hillenbrand's illustrations are charming and perky-just right to catch the eye of little folk and to be pleasing to adults as well. This is a must have for anyone who has not had any formal training in introducing stimulation as a road to brain development for babies and toddlers. Mothers, grandmothers, teachers, and caregivers will find this a treasure, and their charges will delight in the sharing while learning a lot in the process.…A CD is also included with the book, which is a great boon for those of us who cannot carry a tune-fun to sing along anyway!"—Children's Literature
"With directions for play, brief historical notes, music for piano and guitar and many of the more obscure rhymes, this is a comprehensive collection."—Kirkus
"Jam-packed with more than sixty lap songs, clapping games, and rhymes, this superb title contains, as an added bonus, a CD of thirteen beautifully arranged and performed songs…Hillenbrand's whimsical, full-page illustrations and vignettes-featuring pig characters in a pastel pallet-are filled with wry and humorous details and are immensely appealing. Yolen has included historical background about the various songs and rhymes as well as directions for play. In the introduction, she notes: 'The lap is kind of schoolroom. What a child learns there is learned forever.' If you have (or teach) babies or toddlers, this book deserves pride of place on your bookshelf. Highly recommended."—Education Oasis
"If you're looking for the perfect book for an infant's library, buy this one! During all the years of using such collections in my work as a children's librarian, never did I find one to top Jane Yolen's This Little Piggy."—The Kids Bookbag
"This glossy anthology offers a rich, inexhaustible tour of everything you ever need to know about songs and rhymes."—Independent.co.uk Online Edition
---