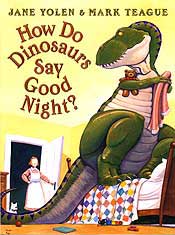 How Do Dinosaurs Say Goodnight?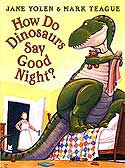 HOW DO DINOSAURS SAY GOODNIGHT?
Illustrated by Mark Teague
Scholastic 2000
ISBN # 0-590-31681-8 Scholastic Hardcover
ISBN # 0-590-31682-6 Scholastic Book Club
ISBN # 0-00-717236-2 Collins Picture Book (UK)
Bonnie Verberg, who had been my editor at Harcourt and then again when she moved to Scholastic, had a baby boy. When he was a year old she called and said, "My little boy hates going to bed at night and loves dinosaurs. Can you write something for him?" This rollicking little verse rolled out, got revised three times, then faxed off to Bonnie who by return fax bought it. "It's perfect," she said, then proceeded over two years to have me revise it some more. But when I saw the Mark Teague illustrations, with their sassy dinosaurs and at-the-end-of-their-rope parents, I knew he'd taken my little rhyme a giant step further on. Scholastic apparently thinks so, too. They gave it the cover of the catalog and first place there, made a poster and door hanger. MerryMakers have created an adorable T-rex plush toy with teddy bear and blankie for all lovers of this book. There are also dinosaur goodnight pjs for children 12 months up to 7 years.
This is the book of mine that has won the most honors: Book of the Month Club's Best Picture Book of 2000, a Booklist Editor's Choice, Time magazine pick as runner-up for best book for the "Inexhaustible Sprite" in the November 20, 2000 issue, one of School Library Journal's Best Books 2000, awarded one of the nine Oppenheim Toy Portfolio Platinum Book Awards 2001 for preschool books, a Nick Jr. magazine choice as a best book for kids ages 3-5, an ABA Pick of the Lists, on the 2000 Capitol Choices – Noteworthy Books for Children list for Up to Seven, winner of a 2000 Christopher Medal, winner of a 2001 ABC Children's Booksellers Choices Award, a nominee for the 2001-2002 Missouri Building Block Picture Book Award, one of the finalists for the 2001 BookSense Books of theYear, listed by the Texas Library Association on its list of 20 recommended books for children, age two to grade two (the 2×2 List), chosen as an American Library Association Notable Children's Book 2001, on the New York Times Children's Best Sellers List for five months, on Publishers Weekly Best Selling Picture Books for eight months, three starred reviews, on the Christian Science Monitor's Children's Best Sellers list (May 2001), WON the Gold Medal Florida Children's Book Award 2001-2002, Honor Book for the Massachusetts Book Award 2001, one of the Wyoming's 2001-2002 Buckeroo Award nominees, on the Tennessee 2002-2003 Volunteer State Book Award list, nominated for the 2002 Colorado Children's Book Award, on the Nevada Young Readers Award list 2003, nominated for the 2003 Maryland Children's Book Award, one of two books chosen for the National Center for Family Literacy's first Annual Snuggletime.com Award, which is for a "thought-provoking new title that engages families in sharing literary traditions before bed." It has also been chosen by the Abilene, Texas children as the 2001 Mockingbird Book Award winner. A 2000 Parents' Choice® Approved winner.
It was chosen by the Abilene, Texas children as the 2001 Mockingbird Book Award winner.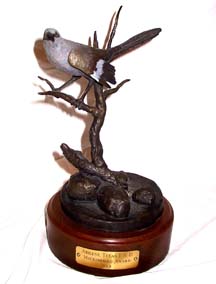 It was #1 on the LA Times Children's bestseller list.
It has Korean, Dutch, Chinese, Brazilian, French and Hebrew editions.
It's on the education.com 50 Books Your Child Should Read Before Kindergarten list. (#22)
Scholastic Book Club has brought out two paperback editions, one in English, one in Spanish, as well as a tape (English only).
There is a delicious animated short video and I got to do the narration. It takes the book illustrations and extends it and does so wonderfully. There are girls as well as boys in this, and–of course–Teague's astonishing dinosaurs. From Weston Woods/Scholastic.
There are now plush dinosaur toys, both adult and baby (adult shown here) based on Teague's cover illustration. They are created by MerryMakers and widely marketed.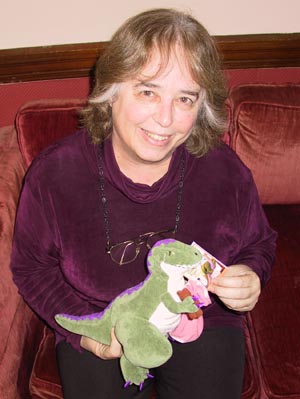 It was one of ALSC's 2003 Notable Videos, recordings and Software.
A giant hall costume: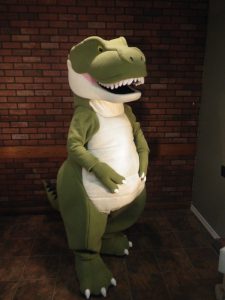 There is a discussion guide from Scholastic.
How Dinosaurs… came to be written.
Read this review of the whole series.
Accolades:
An ALA Notable Book
A School Library Journal Best Book of the Year
A Booklist Editor's Choice
A New York Times, Publishers Weekly, and Booksense bestseller.
What reviewers have said:
*STARRED REVIEW* "Huge, fanciful dinosaurs confront their parents at bedtime in this playful romp…. Verse and illustration are beautifully matched in these bedtime scenarios familiar to all parents of young children." — Kirkus
*STARRED REVIEW* "The text is sweet and simple–just right for the wonderful pictures that really make this picture book special. Teague's art takes dinosaurs out of their usual context and plops them into bed (a rather comical fit) for a sleepy-time tale with a difference. … By cleverly varying his perspectives, Teague adds dramatic punch to the pictures–readers watch from above as one behemoth baby whips its neck from side to side; they watch from below when another stamps its huge feet; and they're face to face with one snoozing T-rex hugging its teddy bear close. Alert lookers will notice the dino's name incorporated somewhere into each picture–pteranodon is neatly spelled out in blocks on the floor. A delight from start to finish; better buy more than one." — Booklist
"Set to a lilting bedtime beat, this rollicking rumpus of a tale ups the humor ante in a familiar scenario by substituting dinosaurs for children … This rib-tickling bedtime fare packs plenty of appeal." — Publishers Weekly
*STARRED REVIEW* "Yolen's always wonderful choice of words is perfectly complemented by Teague's colorful and familiar acrylic illustrations. The danger with Dinosaurs is that pajama clad children will want to hear the story over and over and over…until Mom and Dad fall asleep." — Five Owls
"… the book is also an educational treasure hunt for kids just learning which dinososaur is which. And since it's all about hitting the sack, "How Do Dinosaurs Say Good Night?" makes a perfect bedtime book for the Brontasaurus entranced child. — New York Times Book Review
"Children will love the fact that the dinos tower over tiny parents, and that some of the prehistoric characters thrash, fuss, and misbehave as much as any I'm-not-ready-for-bed-yet kid. Real dinosaur aficiaonados will be pleased that the illustrations focus on the actual features of each beast, and that somewhere in each picture is correct name of the gigantic sleepyhead." — The Christian Science Monitor
*STARRED REVIEW* "If bedtime is a battle (or even a half battle) at your house, here's a book to help you and your wee ones settle down and get a chuckle out of the ordeal. Yolen's hilarious rhyming text pairs perfectly with Teague's ever-imaginative illustrations, resulting in a bedtime story that is both saucy and sweet–and oh so true. Highly recommended." — FamilyClick.com
"While adults may initially question these lumbering behemoths as suitable bedtime-story fare, Teague has miraculously contrived to render Allosaurus, Tyrannosaurus Rex, and eight other creatures of their ilk irresistibly cuddly. Yolen's lilting, reassuring verse cries out for repetition, so grown-up readers should brace themselves for countless requests to "Read it again." " — Parents' Choice
From a review of the video: "Jane Yolen's fantasy bedtime poem (Scholastic, 2000) about how dinosaurs behave when getting ready to go to bed is even more delightful as a video than as a book. … The color and animation are absolutely superb and capture perfectly the intense colors of Mark Teague's original illustrations. … While it can be used as a teaching tool on proper bedtime behavior and attitudes, children will simply relate to the humorous, childlike behavior of the various dinosaurs. How Do Dinosaurs Say Good Night? will become a family and classroom classic." — School Library Journal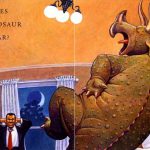 Artwork © 2000 Mark Teague
Is this how Triceratops says goodnight?
Buy HOW DO DINOSAURS SAY GOODNIGHT? from: