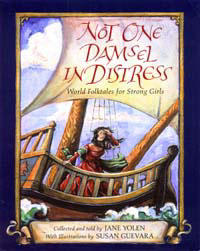 Not One Damsel in Distress
NOT ONE DAMSEL IN DISTRESS
World Folktales for Strong Girls
Illustrated by Susan Guevara
Harcourt 2000
ISBN# 0-15-202047-0 Harcourt hardcover
Move over, Xena! This collection of thirteen retold folk tales about strong young women come from every corner of the globe. From Bradamante, the fierce medieval knight from "The Song of Roland," to Li Chi a Chinese girl who slays a dreaded serpent, to Burd Janet who rescues her own true love Tam Lin from the queen of the faeries. I chose stories that were fun, accessible, and that show young women as strong-hearted, quick-witted, and compassionate. I love these stories! (Of course I love Xena, too!) There are full notes on the folklore antecedents of the stories as well. It was chosen as one of seven titles for children of all ages in BookSense for November and December (2000). Winner of a 2001 ABC Children's Booksellers Choices Award in the Special Subjects categpry. It was also a winner of the 2001 Storyyelling World Award and the Anne Izard Storytellers Choice Award.
Taking a similar approach I have collected a group of stories about boys using brains rather than brawn in a collection entitled MIGHTIER THAN THE SWORD.
Awards:
ABC Children's Booksellers Choices Award Winner 2001 Special Subjects;
Storytelling World Awards Winner 2001 Storytelling Anthologies
Mentioned on NPR show "Public Interest" June 19, 2000
Book Sense 76 List of Best Books
Nominated for Disney Adventures Book Awards 2000
What reviewers have said:
"The title says it all. This is a spirited collection with a lively pace … The stories sing and soar in Yolen's supple language, and each is contained enough for a read-aloud."–Booklist
"…splendidly told by an author who can not only spin a mean folktale, but makes some nice subtle points in doing so. The book is strengthened even more by Yolen's extensive 'Notes on the Stories' and an excellent bibliography for those who want more, making a useful reference tool for classroom or library." — Kirkus
"Peopled with princesses and paupers, kings and their sons, dragons and strange creatures of all sorts, this book trumpets the theory that girls can (and should) tackle anything that happens along and taunts them to withdraw or be afraid." — Children's Literature
"Yolen's retellings are consistently engaging and well written, whether she is dealing with the history of the White River Sioux in "Brave Woman Counts Coup" or "Nana Miriam," a culture hero of the Songhai of Niger. Ample source notes and explanations of Yolen's additions and changes are included as is a thorough bibliography." — School Library Journal
"Yolen has collected more than a dozen formerly obscure folktales from around the world featuring strong and combative women heroes such as Burd Janet, Atalanta, and Bradamante, and has narrated them with verbal flourishes taken from the oral tradition. . .the appended source notes reveal a thorough scholarship."–Horn Book
"These are stories most children don't know, and the book can make for a powerful reconsideration of who is heroic and what heroism means."–Rethinking Schools summer 2000
Available in hardcover.
---
Order from:
Search for Out of Print Books: