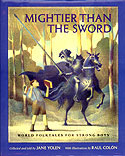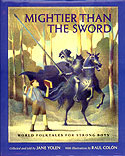 MIGHTIER THAN THE SWORD
Illustrated by Raul Colón
Harcourt 2003
ISBN# 0-15-216391-3 Harcourt hardcover
So many people wrote to me asking that I write a book for boys to pair with my collection Not One Damsel in Distress: Folk Tales for Strong Young Women, that I decided to try it. I wanted stories in which the boys never pick up a sword and chop off the villain's head. So I began my research, thinking how easy it would be to find wonderful, tellable tales in which the young hero outwit, outsmart, and outthink the trolls, devils, wicked sorcerers, etc.
Right?
Wrong.
It turned out to be a much more difficult research problem than finding wonderful, tellable folk tales about strong young women. Who would have guessed that? Not I.
I devoured folktale books and anthropological monographs. I sought out college folklore sections. But at last I was able to gather a selection of tales from around the world in which the strong young men defeated the bad guys by their intelligence and wit (and an occasional assist from loyal companions.) It just took a lot of digging. The pictures by Raul Colon are sensational. Now I hope all the folks who asked for the book will run out and buy copies.
Accolades:
A Junior Library Guild book.
Best Children's Books of the Year, 2004 Bank Street College of Education
Aesop Prize Winner 2003
On the Top 20 list for 2003 from The Lion and the Lamb Project, an organization that promotes non-violent media for kids.
Society of School Librarians International Book Awards Honor Book 2003 Language Arts-Grades K-6
What reviewers have said:
"Yolen, an undisputed queen of storytelling, shines with these retellings…A stellar read-aloud volume as well as just right for independent readers." — Kirkus:
"Yolen balances lightly on the curl of her storystorytelling wave: the language is solid, the pace is quick, and the narrative smooth." — Bulletin of the Center of Children's Books
"The Library of Congress summary for this book is "a collection of folktales from around the world that demonstrate the triumph of brains over brawn." The author has collected tales from places including China, Angola, Ireland, Hungary, and Israel, where boys outwit their enemies, maneuver out of danger, and win fortune and fame with brains rather than brawn. I like the premise — using the mind, heart and will to wield power – and I like to think that these boys all had a "yiddishe kup" (Jewish head), which enabled them to do so. "–Association of Jewish Libraries Newsletter
"Free of didacticism, these diverse stories give readers something to think about." –Booklist
"Every boy needs a mother and grandmother like Jane Yolen. . . This collection is outstanding and well worth any teacher's attention. Teachers that have video games "fanatics" in their class could possibly use these folk tales with these students. I would suggest that they create the idea for a video game that has no violence patterned after one of these stories. It might get them to thinking about a game that contains something besides the most creative way to annihilate someone or some thing. "–Heart of Texas Reviews
"In each of the fourteen folktales in this well-rounded, well-told collection, boys solve their seemingly impossible problems not with force but with wit, trust, kindness, and other feminine virtues. Enhanced by Colón's dignified and boy-friendly crosshatched drawings (one per story), the tales come from many places including Afghanistan, Hungary, and Angola. "–Horn Book Guide
"[Yolen's] versions of these stories are lively, expressively written, ready for reading aloud or telling…" — School Library Journal
"To read this book is to slip into family homes the world over, as parents impart lifetime lessons to strengthen and bless their children." — WonderKorner
". . .male protagonists using cleverness, imagination, and intelligence to solve problems, conveying the message that strength does not have to be synonymous with force."–Book Links
"Yolen reminds her readers of the story's theme: "Remember to follow your dream," A perfect gift for any occasion, this collection is sure to help boys do just that."–Book Page
"Yolen tailors her voice to suit the cultural background of each story, adding her own touches of humor. Folklorists and storytellers will be gratified to see that Yolen includes thorough and interesting source notes along with explanations of how she shaped and changed each story. . . .Even without the unifying theme of boys triumphing without fighting, this is a well-rounded, well-told collection."–The Horn Book
Available in hardcover.
---