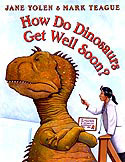 How Do Dinosaurs Get Well Soon?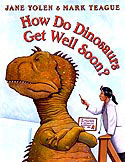 HOW DO DINOSAURS GET WELL SOON?
Illustrated by Mark Teague
Scholastic 2003
ISBN # 0-439-24100-6 Scholastic Hardcover
ISBN # 0-00-717236-2 HarperCollins (UK) Paperback
ISBN # 0-439-24101-4 Scholastic Book Club
The first dinosaur book did so well (that's putting it mildly!) my editor asked if I thought I could come up with a sequel. Could I? You bet. About that time, various grandchildren had the sniffles, the snuffles, and the all-around gollywoogles, so a book about dinosaurs in a similar situation seemed perfect. I had to argue to keep in the line about the dinosaur getting sick in a pail. I loved it, the kids loved it, the editor was nervous about it. But all her co-workers agreed it was funny. And Mark Teague made it even funnier with his illustration of the dinosaur with a long, long neck (a brachiosaurus) breaking out of the page and then circling back in to be–yup!–sick in a pail. The cover of the finished book is the second try and is much the better choice. Scholastic plans a growth chart as a giveaway and other goodies. I just hope dinosaur lovers (and sick/well kids everywhere) enjoy the book. There are French and Spanish editions.
Accolades:
The Oregon SMARTIES Award
A Bank Street College of Education Best Book of the Year
A Parent's Choice Award winner
Three awards in Korea: School Library Journal Award for Best Book in Korea, Naver's Best Book of the Year Award, and Kyobo Book Store Best Book of the Year Award
What reviewers have said:
*STARRED REVIEW* "For dinosaur fans of all ages, this inspired silliness is just what the doctor ordered." — Publishers Weekly
*STARRED REVIEW* "Teague, always tops when it comes to mining humor in art, does a great job here. … The large paintings and short text makes this an excellent choice for story hours, but the book may be most enjoyed one on one, especially by listeners experiencing a few coughs and sniffles of their own." — Booklist
"Repeating the winning formula of How Do Dinosaurs Say Goodnight? (2000), Teague supplies art for Yolen's sprightly ditty on proper behavior while under the weather. Spread- and eye-filling domestic scenes, in which all the children are replaced by humongous, comically fretful, precisely detailed dinosaurs are the perfect prescription for the crankily bedridden. … This salutary combination of savvy advice and sidesplitting art belongs next to every sickbed." — Kirkus
"A great addition for dinosaur fans and a reassuring story for young flu and cold victims."–School Library Journal
"How Do Dinosaurs Get Well Soon? will delight parents and children alike, sniffly or not." — WonderKorner
"Still, parents will probably find the book, and especially its message, appealing. Children are also likely to enjoy it. The lesson may be lost on them, but it's hard to go wrong with dinosaurs. Especially when they are trashing the joint." — New York Times