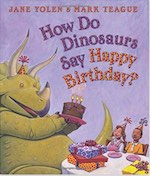 How Do Dinosaurs Say Happy Birthday?
HOW DO DINOSAURS SAY HAPPY BIRTHDAY
Illustrated by Mark Teague
Blue Sky Press, 2011
ISBN-10: 0545153530
ISBN-13: 978-0545153539
So I had been writing a lot of the big dino books when the board book department at Scholastic Publishing asked if I would write some board books for them. The editor was a delightful man named Jeff who had the sensibilities of a small child–that is he loved to play with words and ideas, plus things always seemed new and interesting to him–and had the adult ability to turn those ideas into fun board books. I went into his New York City office and we sat down for about three hours and bounced ideas off one another.
One of those ideas was a How Do Dinosaurs celebrate birthdays? And yes, I wrote it on the train ride home,well the first draft anyway. It took another bunch of rewrites before Jeff and the dino book series editor Bonnie and I were all happy with the words. From there it went to the illustrator Mark Teague to work his own magic. And then out into the world where eventually one of its readers–Wonder Woman herself –read it aloud for TV and websites because it was her own daughter's favorite book. Sometimes–as I like to say–the magic works!!!
Around the Web:
Gal Gadot reads How Do Dinosaurs Say Happy Birthday for charity. Even Wonder Woman reads Jane Yolen's How Do Dinosaurs books!!!!