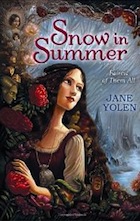 Philomel 2011
ISBN-10: 0399256636
ISBN-13: 978-0399256639
Back before 2000, I wrote a short story of the same name and it was published by anthologists Terri Windling and Ellen Datlow. The story was about five pages long, a West Virginia take on Snow White. It was always a story I thought could be expanded into a novel one day.
And one day ten years later, after I had a long talk with editor Jill Santopolo, I wrote the novel, she published it, and it came out in 2011. It hits on a number of personal things: set in a mythical version of my husband's home town of Webster Springs about the time he was born (1937); based on a troubling and often re-worked Grimm's story that I have taught in my children's lit classes (how about that necrophilic prince?); it also touches on folk music which I love, and snake-handling sects which give me the heebie-jeebies.
Accolades:
SNOW IN SUMMER is on the Winter 2011-12 Kids' Indie Next List! There are 50 titles on the Winter 2011-2012 Kids' List.
Around the web:
What reviewers have said:
"This is a very fast-paced and enchanting version of the Snow White story that brings in the elements of the teenage years that can be frightening and disturbing in and of themselves, regardless of whether or not a girl is facing death at the hands of a heartless witch, making Summer a character many of us can identify with and understand. This book has a gorgeous cover and delicately floral endpapers, which combined with the wonderful and thoughtful story makes a pretty package not just for teen girls but for adults as well."—bsckids.com
"Yolen's "Snow White" follows the familiar path of the childhood story but adapts well to its more modern setting and characters. Period details feel authentic to both the time and the story line. The use of Appalachian turns of phrase may leave some readers stumped, but the language adds to the story's firm grounding in its new setting. A well-imagined and well-told addition to collections of retold fairy tales."—School Library Journal
"A quiet and compelling story more closely tied to the classical fairy tale than the now-popular Disney version"—Kirkus
"The combination of vivid imagery with an authentic setting, including believable language and historically accurate details about snake-charmers and Appalachian folk customs, cre- ate a fascinating, moving, and often heartrending coming-of-age story. Although Snow in Summer is not as dark as Yolen's Briar Rose (Tor, 1992) or The Devil's Arithmetic (Perfection Learning, 1990), this tale will delight new and old readers alike. Appropriate for younger middle readers; girls will especially enjoy reading about this strong female character"—Rachel Nash, Daly City/So San Francisco PL
"Based on the traditional Snow white-complete with magic mirror and seven dwarfs (more or less),along with some Appalachian folklore, post-Depression era culture, and snake-handling evangelicals–this story is beautifully written and deliciously scary, with just enough differences from familiar versions to keep readers guessing."—Publisher's Weekly
"This Snow White tale filled with magic and intrigue during the early twentieth century in Appalachia will be hard to forget."—Kids Bookshelf
*(Starred review) "Billed as "A Tale of an American Snow White," this story takes place in the mountains of West Virginia, in the late 1930s and 1940s. . . .Yolen's dialogue and location create a rich and believable fairy tale setting…This tense thriller will please readers."—Library Media Connections
"Yes, there is a magic mirror, a hunter tasked with cutting out Snow's heart and roasting it, and "six small men who mine" (the seventh is away at university). But in Yolen's retelling of "Snow White," the magic is tilted toward Pentecostal snake handling, herbal wisdom, and country beliefs like the protective powers of the caul. The details of Appalachia that pervade the tale, including narrative language both poetic and specifically mountain, are so authentic and true that, far from being a wizened offshoot of a European rootstock, this story branches out into its own full, American inflorescence."—Horn Book
"This imaginative recasting of the traditional Snow White fairy tale is accented with just the right amount of cultural touches to give it an authentic Appalachian flavor. Summer's story is told as a recollection, which mitigates some of the scariness that arises from the dark arts at play…fans of fairy-tale re- treatments ought to be enchanted by Yolen's imaginative spin.Booklist
"This enjoyable and interesting take on Snow White is set in West Virginia in the [1940s]. I really enjoyed the author's spin on the traditional story and her seamless blend of the real with the magical. Plus, the wicked stepmother was terrifyingly creepy! Among all the fairy tale retellings being published these days, this one is definitely a standout!"—Bookselling This Week: Indie List